Several months ago my hubby was diagnosed as pre-diabetic due to a very high A1c level. He decided to completely change his diet and control his blood sugar through diet. I have heard so many things about the Paleo diet so when I had the chance to review this new release cookbook, I was excited. But I have to tell you. This is more than just a cookbook. It is a lifestyle plan for those needing to manage their blood sugar.
Check out my thoughts on: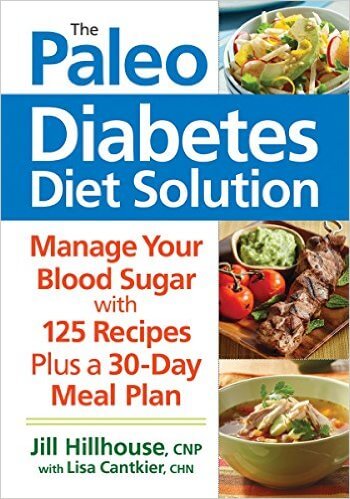 The Paleo Diabetes Diet Solution: Manage Your Blood Sugar by Jill Hillhouse + Lisa Cantkier
ISBN-10: 0778805484
ISBN-EAN: 9780778805489
Published Date: Oct 2016
Switching to a paleo lifestyle can help you effectively manage your diabetes.
Millions of people are living with diabetes, and many experts believe that the regular consumption of packaged and processed foods is the leading cause of diabetes and other chronic diseases. A paleo diet isn't a magic bullet, but all the recent research points to the fact that it can effectively manage as well as lower your risk for diabetes.
The foundation of the paleo diet is fresh, unprocessed grass-fed meat, whole fruit, vegetables, seeds and nuts. It's a nutrient-dense, low-carb, fiber-rich diet high in vitamins and minerals. These paleo-inspired recipes will give you the tools you need to manage or reverse high blood sugar levels while enjoying delicious food at the same time.
Thoughts on The Paleo Diabetes Diet Solution: Manage Your Blood Sugar
I love this book. It is loaded with information about how the blood sugars work in your body and other diseases that can be affected by higher levels of sugars, more so than just diabetes.
This book is the framework for a paleo lifestyle. It walks you through all of the "why's" for this eating plan – Why it works. Why it is a good choice for diabetics. The authors give you in depth detail and information that teaches you everything you need to know about going Paleo before moving forward. It even walks you through your Kitchen Detox and why you cannot eat certain foods. Very interesting!
Then you get to the recipe sections. This book is loaded with 125 recipes and a 30 day meal plan to help you kick start this lifestyle change. From soups and salads to seafood and meats, you will have loads of options for a balanced and healthy meals your whole family will like. There are a few pictures of the recipes included that are gorgeous, just like this one!
I also love that the authors give loads of tips for eating away from home too. That is where you can get tripped up on any plan! They have thought of everything in this book!
This book is a go-to read for those that are interested in the Paleo plan or want to manage their diabetes through diet. My hubby learned so much reading this book and I am loving the recipes! Definitely one to pick up!
Disclaimer: Chris has personally reviewed the product listed above. She has not received any monetary compensation for her review but did receive a free book so she could evaluate and use it for this post. Her thoughts & opinions in this review are unbiased & honest and your opinions may differ.