I had heard about this author before I was asked to review her newest release, The Dirty Book Club, but I thought she was a young adult writer. So I was going to pass it up. Luckily for me, I read more about this new book and learned that it is her foray into contemporary women's fiction and I knew I had to check it out.
I am so glad that I did! A delightful, humorous, and even spicy look at women's relationships today. Here are my thoughts.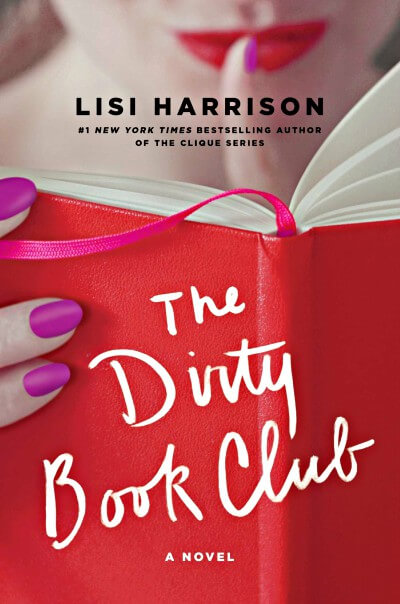 The Dirty Book Club by Lisi Harrison
Publisher: Gallery Books (October 10, 2017)
ISBN-13: 978-1451695977
M.J. Stark's life is picture-perfect—she has her dream job as a magazine editor, a sexy doctor boyfriend, and a glamorous life in New York City. But behind her success, there is a debilitating sense of loneliness. So when her boss betrays her and her boyfriend offers her a completely new life in California, she trades her cashmere for caftans and gives it a try. Once there, M.J. is left to fend for herself in a small beach town, with only the company of her elderly neighbor, Gloria, and an ocean that won't shut up.
One afternoon, M.J. discovers that Gloria has suddenly moved to Paris with her friends to honor a fifty-year-old pact. And in lieu of a goodbye, she's left a mysterious invitation to a secret club—one that only reads erotic books. Curious, M.J. accepts and meets the three other hand-selected club members. As they bond over naughty bestsellers and the shocking letters they inherited from the original club members, the four strangers start to divulge the intimate details of their own lives… and as they open up, they learn that friendship might just be the key to rewriting their own stories: all they needed was to find each other first.
The Dirty Book Club by Lisi Harrison Book Review
Hopefully we all have at lest one friend that we can let loose with and be who we really are. Just tell it like it is and say anything and everything friend. Nothing is held back and all is a sworn to secrecy friend. The strong connection is evident for those that see you together friend.
That connection is a big part of this new book. A wonderful and fun look at two sets of women's lives. Their interactions; belief in each other; support systems when everything goes astray. Their promises to each other and the secret book club that opens their eyes to another world.
This book is an awesome read. You can tell it was a labor of love. To be able to get the sarcasm just right. The bitchiness, the understanding, and finally the unwavering support is something we all wish we had in a friend.
Plus the book club and the secrets held within is a fabulous and witty idea that just made this book a delightful and a wee bit raunchy read that just made me laugh in so many places.
The author has crafted the perfect women's fiction read. With a bit of romance, sex chat, men talk, and strong women's support group feel, you have to join The Dirty Book Club yourself. You may find it holds the answers to several questions you may have but were afraid to ask.
Disclaimer: Chris has personally reviewed the product listed above. She has not received any monetary compensation for her review but did receive a free ebook so she could evaluate and use it for this post. Her thoughts & opinions in this review are unbiased & honest and your opinions may differ.