I have heard of Mariah Stewart many times and have seen her books on book sites so much that I was sure I had read several. However, it turns out that I have only read one of her books from almost two years ago! With more than 20 books to her name, I was excited to review this new release, perfect for lovers of sweet romance.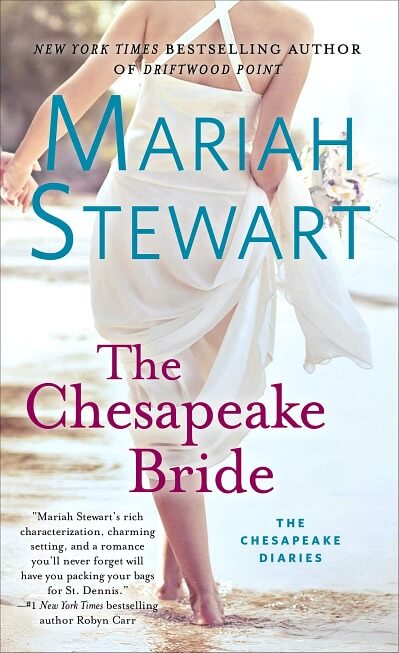 The Chesapeake Bride by Mariah Stewart
Series: The Chesapeake Diaries (Book 11)
Publisher: Pocket Books (August 29, 2017)
ISBN-13: 978-1501154355
Synopsis:
Architect Cassidy Logan has sworn off good-looking adventurers. Newly divorced, she's focused on building ecologically friendly, historically accurate homes on the Chesapeake Bay for her father's construction company. Traveling to Cannonball Island—where there has been no new construction in nearly one hundred years—Cass is sensitive to the heritage of the island, and has come up with plans so perfect she's determined to buy a home for herself. Even the fact that Owen Parker—a local who she dismisses as a lightweight and a player—seems to be everywhere isn't enough to deter her from building her dream house.
Owen Parker is and always has been sinfully handsome and wickedly clever, a magnet for mischief as well as girls. He's a rolling stone, going and doing whatever appeals to him, from flying a mail plane in Alaska, to working on a cattle ranch in Australia, a shrimp boat in Louisiana, and surfing and diving in Costa Rica.
When an old friend offers him a job salvaging a sunken ship on the Chesapeake Bay, Owen gladly accepts. Something's been telling him it was time to head home to Cannonball Island, and a job is as good an excuse as any. And he's totally smitten by the pretty architect on the scene, but it seems he's finally met a woman who's immune to his charms. Sooner or later, Owen will have to face the reason why he always runs, because this time, leaving just might be harder than staying.
Review of The Chesapeake Bride by Mariah Stewart
I was a bit intimidated when I picked up this book and saw it was book 11 in a series. I thought I was going to be in trouble as far as keeping up with all of the characters. However, that could not be further from the truth. The author did a fabulous job blending in the storylines from other books seamlessly so I never felt lost or wondered what I was reading.
This book is a waking talking history book of the infamous Chesapeake area of the eastern seaboard. With wonderful detail and highly descriptive portions of the area and local architecture, you are sucked into Cannonball Island and all of the interesting characters that live there.
Blended into the history of the area is a budding romance. Smitten from first glance, Owen and Cass are finding comfort in the town and each other with a few ups and downs and fearful steps along the way. Written with a slow build of romance, you become comfortable with them, just like they were an old friend. Finally cheering them on as they find their way through the inevitable stuff that pops into life.
With plenty of unique and fun characters to get to know, the activity of the wedding, and lots of exploration of the town, The Chesapeake Bride is an engaging and sweet, cozy romance that leaves you with a happy feeling and the anticipation of more to come in this series.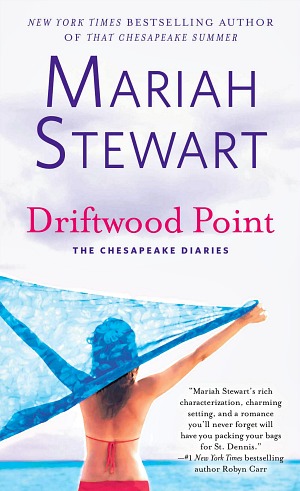 Enter the Giveaway
One winner is going to receive a copy of Driftwood Point, 10th in the Chesapeake Diaries by Mariah Stewart – perfect for women's fiction and romance lovers to get caught up in the series! Enter below.
Giveaway Details: This giveaway is open to US Residents age 18 or over. You must complete the Mandatory Entry to be eligible. Follow the directions in the Giveaway Tool below. This giveaway will close on Sept 14th, 2017 at 11:59pm PT Time.
Disclaimer:
Chris received complimentary ebook for review purposes. Prize provided by the Sponsor. Please read our Official Rules before entering this giveaway. We must receive all entries by the end date of the contest and the odds of winning are determined by the number of entries received. No purchase necessary to enter. A Midlife Wife is not responsible for prize fulfillment.