Today I am bringing you a fun follow up to the stand-alone novella I checked out last month, Save a Truck, Ride a Redneck. This enchanting series, Southern Eclectic, is Molly Harper's intro into contemporary romance and it is delightful. New for this month, I was able to review her upcoming, Sweet Tea and Sympathy.
I've read many books by Ms. Harper and I have thoroughly enjoyed this new foray into the contemporary romance genre.
Beloved author Molly Harper launches a brand-new contemporary romance series, Southern Eclectic, with this story of a big-city party planner who finds true love in a small Georgia town.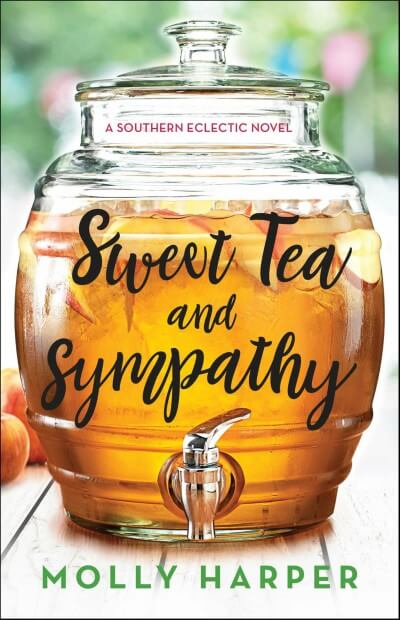 Sweet Tea and Sympathy by Molly Harper
Series: Southern Eclectic (Book 1)
Publisher: Gallery Books (November 21, 2017)
ISBN-13: 978-1501151224
Nestled on the shore of Lake Sackett, Georgia is the McCready Family Funeral Home and Bait Shop. (What, you have a problem with one-stop shopping?) Two McCready brothers started two separate businesses in the same building back in 1928, and now it's become one big family affair. And true to form in small Southern towns, family business becomes everybody's business.
Margot Cary has spent her life immersed in everything Lake Sackett is not. As an elite event planner, Margot's rubbed elbows with the cream of Chicago society, and made elegance and glamour her business. She's riding high until one event goes tragically, spectacularly wrong. Now she's blackballed by the gala set and in dire need of a fresh start—and apparently the McCreadys are in need of an event planner with a tarnished reputation.
As Margot finds her footing in a town where everybody knows not only your name, but what you had for dinner last Saturday night and what you'll wear to church on Sunday morning, she grudgingly has to admit that there are some things Lake Sackett does better than Chicago—including the dating prospects.
Elementary school principal Kyle Archer is a fellow fish-out-of-water who volunteers to show Margot the picture-postcard side of Southern living. The two of them hit it off, but not everybody is happy to see an outsider snapping up one of the town's most eligible gentleman. Will Margot reel in her handsome fish, or will she have to release her latest catch?
Sweet Tea and Sympathy by Molly Harper Review
One of the things I love the most about the writing style of Ms. Harper is her snarky, dry sense of humor. It reminds me of me… lol. But it also makes for a humorous look at life even when everything we have dreamed of goes down the drain in one impressive display.
While a pity party is definitely due, life does have to move on, and moving on is exactly what Margot has to do. But why be boring? Let's move on to a completely different world and live with people we don't know!
The family is quirky and a bit wild but you will quickly fall for them right along side of Margot. And Kyle – a blend of sweet and sad, and a perfect balance for Margot's life. I love the wild passionate streak they have going on!!
Refreshing and fun, with bouts of pity party going on, Sweet Tea and Sympathy is a delightful read that offers a look at a second chance in life. From family to work, even to love, this book has it all. Absorbing and highly entertaining, you will not want to put this one down.
Disclaimer: Chris has personally reviewed the product listed above. She has not received any monetary compensation for her review but did receive a free advanced readers copy so she could evaluate and use it for this post. Her thoughts & opinions in this review are unbiased & honest and your opinions may differ.