I have to admit that I had never read a Catherine Anderson book before is reviewed The Christmas Room a few moths ago. I was hooked by her writing and story so when I saw a new book is being released, I knew I had to review that one too.
A beautiful contemporary women's fiction with a touch of romance, it will touch you in many ways and at many depths. Here are my thoughts.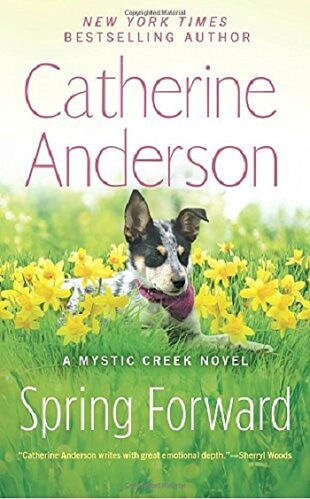 Spring Forward by Catherine Anderson
Series: Mystic Creek (Book 4)
Publisher: Berkley (January 2, 2018)
ISBN-13: 978-0399586347
Synopsis:
When a favorite customer on his delivery route needs a favor, Tanner Richards agrees to help without a second thought. The last thing he expects is to face off against the man's spitfire granddaughter.
Crystal Malloy is near her breaking point. Her beloved grandfather constantly skirts the rules at the retirement center where he's recovering from surgery. She's caring for his escape artist dog, even if it means abandoning her salon customers, and she has no time for a romantic attraction to the handsome new stranger.
After Tanner's reassigned to Mystic Creek, Crystal can no longer ignore how much she misjudged the man's good intentions. She has known too much sorrow to easily open her heart, but she can't deny that Tanner and his children could gift her with a happiness beyond compare—if only she can forgive herself for the past and accept that she's deserving of such a love.
Spring Forward by Catherine Anderson Book Review
I have been enjoying this story so much I was sad to see it end. At first I wasn't sure what to expect with the plot. But, that's the beauty of discovering an author you find you enjoy immensely.
The author reminds me a bit of the writing by Debbie Macomber. With her warm writing and emotional connections, you cannot help but get entwined with the story and the characters.
In the small-town atmosphere we meet an aging rancher, Tuck, who was injured and forced into a rehab home. His granddaughter is his advocate and main focus having raised her much of her life. Much of the story revolves around Crystal caring for him and his crazy dog along with trying to live life.
But we also meet Tanner who is a friend of Tuck and their lives begin to intertwine with her and soon a budding romance breaks through.
As with every one in life, there are trials and tribulations. We experience the highs and lows and the author takes us through many of Crystal's struggles from the past that start to peek through. Soon issues and accidents create havoc and tug on our own heartstrings as we watch her stumble. I was cheering her on as she works to realize that Tanner and all he represents is a risk worth going for.
This book is finely detailed with highs and lows, humor and light, dark spots and warm hearts. I loved all of the characters together and final happily ever after, times two, is a definitely sweet.
As part of a series, Spring Forward is a standlone read with supporting characters that are found in each book. I have not read any of the other books and had no issues following the plot.
For feel good, sweet romance stories, Catherine Anderson is definitely an author to add to your must-read list. Spring Forward is a great choice to start.
Disclaimer: Chris has personally reviewed the product listed above. She has not received any monetary compensation for her review but did receive a free ebook so she could evaluate and use it for this post. Her thoughts & opinions in this review are unbiased & honest and your opinions may differ.