The best thing about reading a series of books is that each one tends to build on the prior books. When you have a talented author that can really develop a series as it moves forward it makes it even more intriguing and encompassing.
I was excited to read and review book three in the Gravediggers series by Liliana Hart. The first two books were good, but this new release is definitely my favorite so far. Here are my thoughts.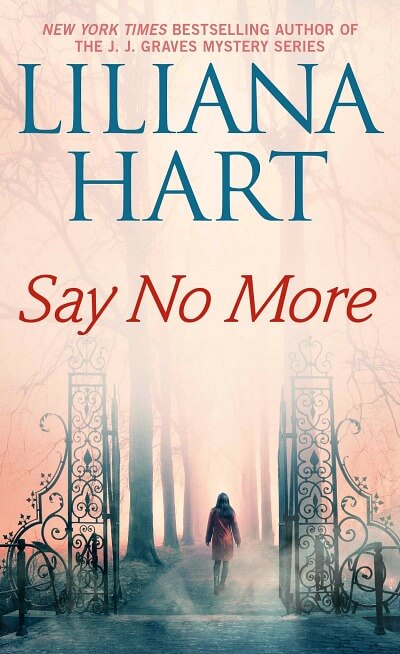 Say No More by Liliana Hart
Series: Gravediggers (Book 3)
Publisher: Pocket Books (July 25, 2017)
ISBN-13: 978-1501150074
The world thinks they're dead. The world is wrong.
Dante Malcolm is a man of refined tastes. He was once a part of Britain's Elite Intelligence Force, but there was a reason he'd never been able to capture Simon Locke, the notorious thief who always seemed to be one step ahead. That's because Dante and Simon were one and the same, until Dante's double life eventually caught up with him and now he belongs to the Gravediggers.
Liv Rothschild is a Detective Inspector with Interpol and is the one responsible for catching MI-6's most notorious agent in his final heist—except the heist killed him. But something has never felt right about his death, and it's haunted her for months. It was too easy, and Dante Malcolm was too smart to go down that way.
Dante might belong to the Gravediggers in body, but his heart and soul will always belong to the next job. The rest of the team doesn't know about his alter ego because he made sure the information went missing from his file. So when the job he's always waited for seems like a possibility, he sneaks out of the country like a thief in the night, only to run into the only woman who's ever been able to match him in wit—and passion—for the job. Except they're standing on opposite sides of the law—and only one of them can walk away with the prize.
Say No More by Liliana Hart Book Review
This story is set up a little differently than the others in the series. We don't know much about the characters other than a bit of foreshadowing in book two. We are introduced to them by their past history. How they met and their past relationship. And then how everything was ripped apart.
Fast-forward into today and we have an interesting story that sure to tug on your heartstrings. The story mainly focuses on Dante and Liv. The author does a great job of crafting two workaholic and lonely characters. The secrets that tie them together come to light in this unique story.
The author engages us with plenty of action, twists and turns, suspense, romance and a host of other feelings and emotions. With Dante being a Gravedigger and working for the evil Eve, it's hard to see how a relationship will even be possible. However, the author does not disappoint and we are given a happily ever after that appeases.
This series has been getting better as we move through it. Book one was intriguing. Book two was a bit frustrating. But book three is definitely more my style of romantic suspense and Dante has become one of my favorite gravediggers.
There were some parts that did come off as a bit strange, however the overall story was exciting and fulfilling in many ways.
I hope the author continues with the series. Axel is an enigma and I hope is the next person on the list to be featured.
Enter the Gravediggers Giveaway
For the Gravedigger Giveaway, we are giving away two books to one lucky winner: One review copy of Book 1, The Darkest Corner, and a review copy of Book 2, Gone to Dust! Here is how to enter!
Giveaway Details: This giveaway is open to US Residents age 18 or over. You must complete the Mandatory Entry to be eligible. Follow the directions in the Giveaway Tool below. This giveaway will close on August 17, 2017 at 11:59pm PT Time.
Disclaimer:
Chris received complimentary ARC for review purposes. Prize provided by the Sponsor. Please read our Official Rules before entering this giveaway. We must receive all entries by the end date of the contest and the odds of winning are determined by the number of entries received. No purchase necessary to enter. A Midlife Wife is not responsible for prize fulfillment.