I love reading sequels! In this new release I was asked to review, we get to continue the story that started with When All The Girls Are Gone, that I reviewed last year.
The author has stepped up the game in this newest offering and I am excited to share my thoughts on this story. One good thing, if you missed the prior book, do not dismay. This is a total standalone. The family is the tie between the books, not a story continuation.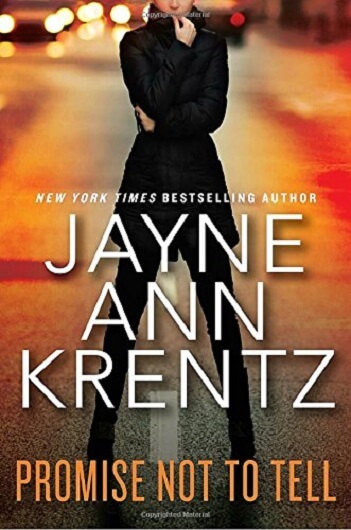 Promise Not to Tell by Jayne Ann Krentz
Publisher: Berkley (January 2, 2018)
ISBN-13: 978-0399585272
A painter of fiery, nightmarish visions throws herself into the sea—but she'll leave some of her secrets behind…
Seattle gallery owner Virginia Troy has spent years battling the demons that stem from her childhood time in a cult and the night a fire burned through the compound, killing her mother. And now one of her artists has taken her own life, but not before sending Virginia a last picture: a painting that makes Virginia doubt everything about the so-called suicide—and her own past.
Like Virginia, private investigator Cabot Sutter was one of the children in the cult who survived that fire…and only he can help her now. As they struggle to unravel the clues in the painting, it becomes clear that someone thinks Virginia knows more than she does and that she must be stopped. Thrown into an inferno of desire and deception, Virginia and Cabot draw ever closer to the mystery of their shared memories—and the shocking fate of the one man who still wields the power to destroy everything they hold dear.
Promise Not to Tell by Jayne Ann Krentz
In the prior book, I enjoyed the story but it had some flaws to me. I was so happy this this story was much more exciting and the flow was great.
Even though this is a longer story than most, I was whipping through it fast and was completely tied up in the twists and turns. Fast paced with plenty of action and even a bit of romance made this an interesting and engaging read. While I feel that there is room for more tenderness, less rigidty and matter-of-fact connections in the romance department, the author totally came through on the suspense and thriller side.
I loved the story premise and the plot. While you do somewhat know who it is that they are chasing, Krentz adds in a lot of additional plot details and twists to keep you wondering and even throws a few curves that I did not figure out until the end.
With so many novels under her belt, she is a master at storytelling in ways that will keep you enthralled to the end.
Disclaimer: Chris has personally reviewed the product listed above. She has not received any monetary compensation for her review but did receive a free ebook so she could evaluate and use it for this post. Her thoughts & opinions in this review are unbiased & honest and your opinions may differ.