I have to admit that I love reading business minded and inspirational books. We all have things we need to work on in order to become everything that was intended for us. When I heard that this new release I was able to review from the amazing John C Maxwell was about capacity in our lives, I knew this was one I wanted to study.
Here are my thoughts on this engrossing and insightful book. Perfect for personal life and your business life.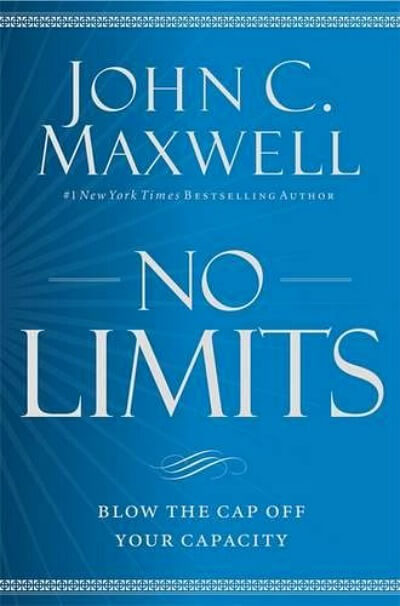 No Limits by John C. Maxwell
Blow the CAP Off Your Capacity
Publisher: Center Street (March 7, 2017)
ISBN-13: 978-1455548286
#1 New York Times bestselling author John C. Maxwell's latest book will enhance the lives of leaders, professionals, and anyone who wants to achieve success and personal growth.
Synopsis:
We often treat the word capacity as if it were a natural law of limitation. Unfortunately, most of us are much more comfortable defining what we perceive as off limits rather than what's really possible. Could it be that many of us have failed to expand our potential because we have allowed what we perceive as capacity to define us? What if our limits are not really our limits?
In his newest book, John Maxwell identifies 17 core capacities. Some of these are abilities we all already possess, such as energy, creativity and leadership. Others are aspects of our lives controlled by our choices, like our attitudes, character, and intentionality. Maxwell examines each of these capacities, and provides clear and actionable advice on how you can increase your potential in each. He will guide you on how to identify, grow, and apply your critical capacities. Once you've blown the "cap" off your capacities, you'll find yourself more successful–and fulfilled–in your daily life.
Review of No Limits by John C. Maxwell
I have long admired Mr. Maxwell and his amazing ability to teach lead and dig down to the crux of the subject. His insight is amazing and as I was reading this book I realize that he is the type of person that never stops wanting to better himself or others. I admire that and know that is something I have to work on.
I often feel frustrated in my business because I feel like it gets to a certain level and then stumbling blocks are put in my way. While this is a typical scenario for every business, I often give up or start over and then feel the same frustration again.
This book opened my eyes to many different areas of this issue as he spoke about the capacity and how much we can accomplish in our life and in our business. I took many many notes and I love the fact that at the end of each chapter there are three questions to help you dig down into things you need to adjust and work on.
Mr. Maxwell is extremely well-known for his amazing books. And No Limits is one that is loaded with the insight to bring clarity into your own life. I didn't just get a nugget of a good takeaway. The whole book is a great takeaway and can change so much in your life.
This is definitely a book that you will reread again and again and find more amazing knowledge that can make impact in your life. That is my plan!
Disclaimer: Chris has personally reviewed the product listed above. She has not received any monetary compensation for her review but did receive a free book so she could evaluate and use it for this post. Her thoughts & opinions in this review are unbiased & honest and your opinions may differ.