I love a good suspense and cop story so when I saw this upcoming release available to review it sounded like something I would really enjoy. I have heard of Karen Rose before but I believe this is the first book I've actually read and reviewed of hers.
So here are some thoughts about the story, which is a continuation in the Baltimore series.
Monster in the Closet by Karen Rose
Series: The Baltimore Series (Book 5)
Publisher: Berkley (August 29, 2017)
ISBN-13: 978-0399586767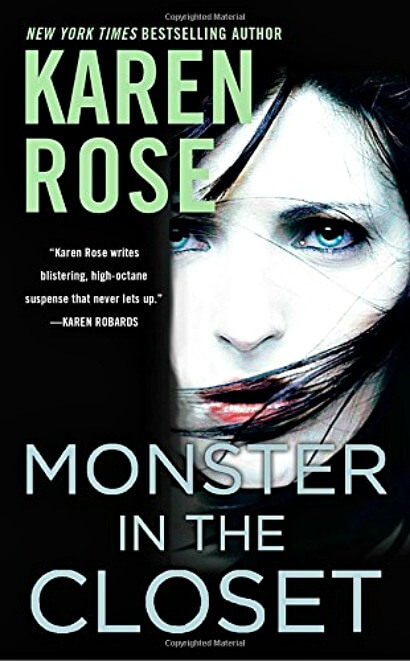 Baltimore PI Clay Maynard routinely locates missing children for clients, but his own daughter—stolen by his ex-wife—has eluded him for years. Until she turns up right under his nose…
Since she was a child, Taylor Dawson believed the lie her mother told her: that her father was a monster. But now she has a chance to get to know the real Clay while doing real work as an equine therapist, which includes helping two girls whose mother was brutally murdered. She might even find something deeper with her boss's handsome son, Ford Elkhart, whose eyes are so haunted. But just as Taylor feels her life opening up to new family, work, and friends, a danger lurks in the darkness—one that will show Taylor the face of true evil…
Review of Monster in the Closet by Karen Rose
I had high hopes about this book as I have heard a lot about Karen Rose and her writing. One thing became abundantly clear very quickly and that this is truly a continuation in a series. I was at a loss in certain aspects because I had not read the prior book.
While most of the story was easy to follow, I did get lost with the amount of characters in the book. There are at least 20, if not more, people that are involved in the story. They all intersect and are related in one form or another, either through work or personally. I finally gave up trying to keep track of who is who.
The story itself was very interesting but the way it's written did not lend itself to a lot of suspense. There was an overload of conversation that did not really pertain to the current crime, but more in the past books and relationship department. It's tough to blend a romantic suspense novel. I think she did well in the personality and character development area, but the suspense area was lacking for me.
The best part of the book was the ending and how she wrapped up the crime. Some was exciting and some predictable. She also included a long finale which will lead to other stories, I'm sure.
For me, this was a good read but I grew bored with a lot of the conversation and repetitiveness through the 20+ characters. I think I will read other books by Karen Rose as I enjoy this genre, this one was not overly exciting until till the end.
Disclaimer: Chris has personally reviewed the product listed above. She has not received any monetary compensation for her review but did receive a free ebook so she could evaluate and use it for this post. Her thoughts & opinions in this review are unbiased & honest and your opinions may differ.