I love a great suspense book and when I was introduced to the books from this author, I was quickly addicted. I had actually passed on book one and two, but when I was offered book three, The Doll's House, I decided rather quickly that this was a series I needed to read and review. But I had to read book One Eeny Meany and two, Pop Goes the Weasel, first. I'm so happy I did.
It's hard to believe in this short time we are already up to book number six. And what a story it is!
Detective Helen Grace faces a murderer and she is trapped among the hunted in a woman's prison. Framed for murder she didn't commit, or did she? Here are my thoughts on this book.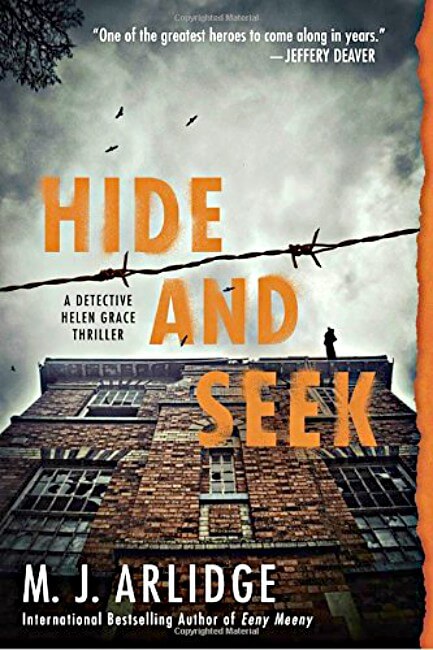 Hide and Seek by M.J. Arlidge
Series: A Helen Grace Thriller (Book 6)
Publisher: Berkley; Reprint edition (October 10, 2017)
ISBN-13: 978-0399586842
Framed for a murder she didn't commit…
As one of HM Prison Holloway's most high-profile new inmates, Helen Grace has a target on her back and nowhere to hide. She has made a long list of enemies over the course of her career—some are incarcerated within these very walls. When one of Helen's fellow prisoners is found mutilated and murdered in her own locked cell, it's clear that the killer is someone on the inside.
But time is running out for Helen as she races to expose the person who framed her, and the body count in the prison starts to climb. Helen will need to draw on all her investigative skills and instincts to catch the serial killer behind these murders and discover the truth—unless the killer finds her first.
Hide and Seek by M.J. Arlidge: Book Review
One thing that stands out about the writing style of M.J. Arlidge is you are very quickly connected to the story. I think this is because you actually have a series of mini chapters so the story can be can told from multiple points of view.
By using this technique, the author can keep you on your toes. A little suspense here. A little suspense there. Twists and turns all over that walk you right into the final conclusion at the very end of the book.
Arlidge is very good at building an exciting story even through a series of books. And this is a series that you definitely want to start at book one so you can completely know and understand the main characters, Helen Grace and her team.
Hide and Seek is a dark and twisted tale with a bit of gore factor to it. The prison life is depicted in a very raw and gritty manner that makes you thankful that's not your life. The desperation, the uncaring attitude, the violence, and the bleak outlook is real and daunting. You almost can't wait until the book ends so you can not have to live that anymore.
Murder, mystery, suspense, who done it, intrigue, investigation, police action, thriller – all of these descriptors apply in this book and in the entire series. Whatever your favorite genre, you're sure to find it in this book.
Disclaimer: Chris has personally reviewed the product listed above. She has not received any monetary compensation for her review but did receive a free ebook so she could evaluate and use it for this post. Her thoughts & opinions in this review are unbiased & honest and your opinions may differ.