There's nothing like a good contemporary women's fiction to curl up into with over a weekend or late at night and just relax. I was excited to be able to read and review this work of art that is being republished. Check out my thoughts on: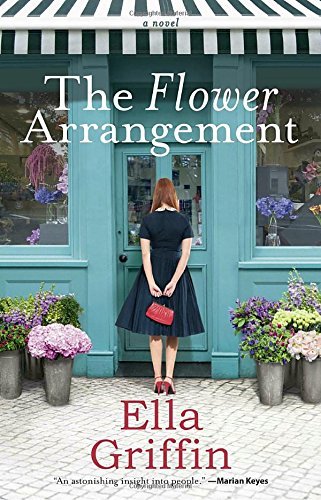 The Flower Arrangement by Ella Griffin
Publisher: Berkley (October 4, 2016)
ISBN-13: 978-1101989739
Drawing together a delightful cast of characters, Ella Griffin brings her warmth, wit and wisdom to this captivating tale of the connections that bring us all together.
Every bouquet tells a story. And every story begins at Blossom & Grow, a tiny flower shop in the heart of Dublin…
Among the buckets of fragrant blooms, beneath the flickering candles and lanterns, Lara works her magic, translating feelings into flower arrangements that change hearts and lives.
She is no stranger to the power of flowers herself. They gave her hope when she was a child who lost a mother, and, again when she was a mother who lost a child.
But old wounds take time to heal, and life has more heartbreak in store. What will it take for the woman who can unlock everybody else's emotions to open up her own heart?
Thoughts on The Flower Arrangement by Ella Griffin
Loaded with the cast of characters that you can connect with, the author dives into a wonderful story where all lives intersect and connect together in one way or another.
Relating to flowers and feeling comfortable with plants is the way that Lara learns how to cope with her life's ups and downs. We all have struggles in our life, some days are more difficult than others, and finding that comfort that works for you whether it is family, work, or just peaceful surroundings, is a necessity.
The author crafted a beautiful story about Lara and her struggles, marriage, and life. Plus all of her family, friends, and coworkers are all entangled in this engaging story.
I have a love/hate relationship with the ending. I love the surprise we are treated to but I hated the relationship portion of the ending. It made me sad and unfulfilled somehow.
Regardless of that, the book itself weaves in in-depth details of happiness, sadness, and, of course, flowers that was perfect diversion for my busy life.
Enter to win a Copy
Grab your chance to win a copy of this beautiful new release in paperback. Here is how to enter!
Giveaway Details: This giveaway is open to US Residents age 18 or over. You must complete the Mandatory Entry to be eligible. Follow the directions in the Giveaway Tool below. This giveaway will close on October 6, 2016 at 11:59pm PST Time.
Disclaimer:The Berkley Books brand provided me with a sample of this product in exchange for a product review. However all the opinions expressed here are my own. My thoughts & opinions in this review are unbiased & honest and your opinions may differ. Sponsor is responsible for prize shipment