* Copy received for review consideration
You can't go through summer without a great book that's based at the beach or by the water. For me there's just no way. I am a water baby and that is my happy place.
So when it's time to take a break from the monotony, reaching for a women's fiction story that takes me away to the beach is a great choice.
Combining books and the beach, this one definitely spoke to me. Here are my thoughts on this new release.
The Book Shop at Waters End by Patti Callahan Henry
Publisher: Berkley (July 11, 2017)
ISBN-13: 978-0399583117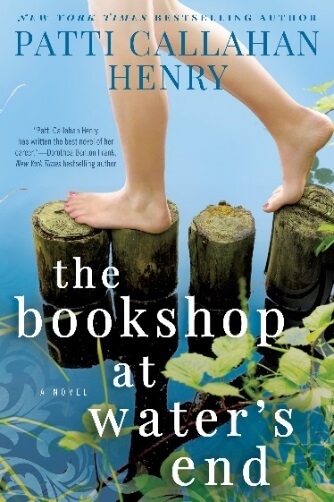 Review of The Book Shop at Waters End by Patti Callahan Henry
This book had so many different levels and layers to peel back, I just don't even know where to start. So I guess at the beginning is a good place.
This is the story of two best friends who spent summers at the beach and their lives became intricately woven together over the years. But then the happiness fell apart over a tragedy that changed their lives forever.
Fast forward to today. Dealing with a tragedy at work, a loveless marriage, the only place to escape to is the water and the house where happy memories used to live.
The author writes a magical story that has many layers, as I stated earlier. It's hard to explain without giving away a lot of the plot. But everything in the story is interwoven and history seems to repeat itself.
There's anger and heartbreak; a lifetime love and new love. There's friendships old and new. And over-lapping it all is the hope that we all can have a fresh start regardless of the situation.
The story is a deep look into the lives and connection of women over the years as well as looking into your own self for healing and forgiveness.
Not every story ends on a happily ever after. The book is closed and the characters are comfortable and happy with their decisions. I just wanted a little bit more.
The author has written a story that will touch you in many ways and definitely have you thinking. That is a sign of a great book. Definitely want to check out for your summer reading.
Disclaimer: Chris has personally reviewed the product listed above. She has not received any monetary compensation for her review but did receive a free book so she could evaluate and use it for this post. Her thoughts & opinions in this review are unbiased & honest and your opinions may differ.