I first heard of Mark Greaney from the infamous Tom Clancy novels. Having read in-numerous books in this genre since I was in my late teens – early twenties, I have a serious love for black ops and suspense at this level.
Last year I read and reviewed my first Greaney novel, Gunmetal Gray, and it was awesome. I mentioned in my last review that these books are stand alones, even though they are in a series. I caught a bit of flack for that statement as I was told I have to go back and read the Gray Man series from the beginning to get the full effect of who Court really is.
I do agree with that statement but I also stand by the statement that you can read this and understand the story completely too. You will understand who he is and what he is doing. And with that, read on for my review on this new release.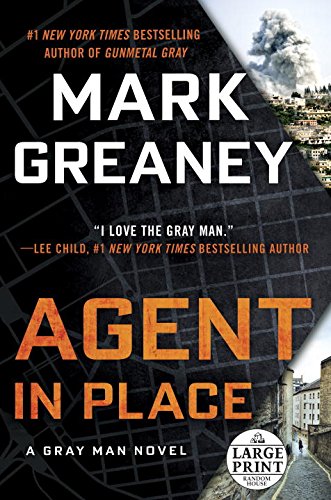 Agent in Place by Mark Greaney
Series: Gray Man (Book 7)
Publisher: Berkley (February 20, 2018)
ISBN-13: 978-0451488909
Fresh off his first mission back with the CIA, Court Gentry secures what seems like a cut-and-dried contract job: A group of expats in Paris hires him to kidnap the mistress of Syrian dictator Ahmed Azzam to get intel that could destabilize Azzam's regime.
Court delivers Bianca Medina to the rebels, but his job doesn't end there. She soon reveals that she has given birth to a son, the only heir to Azzam's rule–and a potent threat to the Syrian president's powerful wife.
Now, to get Bianca's cooperation, Court must bring her son out of Syria alive. With the clock ticking on Bianca's life, he goes off the grid in a free-fire zone in the Middle East–and winds up in the right place at the right time to take a shot at bringing one of the most brutal dictatorships on earth to a close…
Agent in Place by Mark Greaney – Book Review
I think what I love the most about spy thrillers is the continuous action. There is never a dull moment. Never a time where you say to yourself, "Is it over yet?"
This book kicks off with an amazing story and an intricate plot that leaves you breathless. The author keeps ramping up the suspense and the twists to the story every time you turn the page.
From Europe to Syria and points in-between, many players come into this thrilling read. I thought I would have a hard time keeping track of everyone, but the amazing talents of this author weaves a story so captivating and detailed that you think you are right there with the characters each step of the way. In fact, the story is so believable that you have to wonder if this story is fiction or yanked from the pages of current events.
There is a reason the Gray Man is a highly sought after contract professional killer. He is a brilliant, top notch operative that is simply a fabulously developed character. Never a dull moment, you will always be guessing about what he will do next.
In fact, never mind that last statement. There is not enough time to think about what he will be doing. You just have to read as fast as possible. This book is huge so make sure to plan your reading!
Mark Greaney has made an impact with this series and Agent in Place. Imaginative and so very knowledgeable in the game of espionage, you will be come addicted to his writing, just like me!
Disclaimer: Chris has personally reviewed the product listed above. She has not received any monetary compensation for her review but did receive a free ebook so she could evaluate and use it for this post. Her thoughts & opinions in this review are unbiased & honest and your opinions may differ.