* copy received for review consideration
I was brought up in the church and attended regularly up until about eight or nine years ago. I've always had a strong belief in God and prayer has always been a part of my life.
But there are times when you feel like you're not as connected to God and something is missing in your soul. Much like the author of this book I am reviewing, the busyness of our lives tend to get in the way of our quiet time and the true connection.
This devotional called Whispers of Rest by Bonnie Gray is a one on one daily experience that offers 40 days of God's love to revitalize your soul. Here are my thoughts.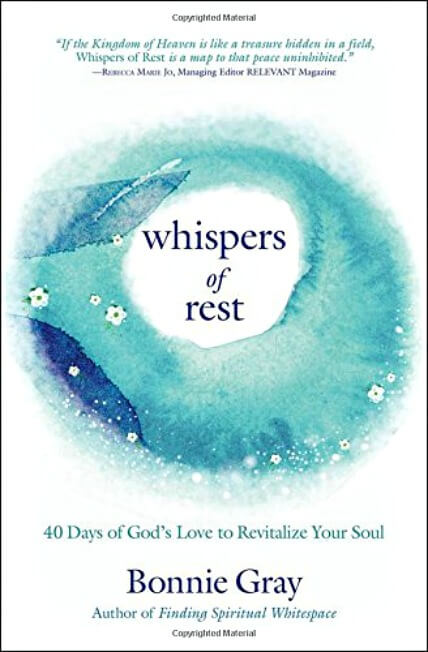 Whispers of Rest by Bonnie Gray
Publisher: FaithWords (May 23, 2017)
ISBN-13: 978-1455598205
A beautiful 40-day devotional detox for your soul and spiritual journey to refresh and guide you to greater peace.
Life is noisy. But what would happen if every day – for the next 40 days – you soaked in God's love as He intimately whispered words of rest just for you?
WHISPERS OF REST is a 40-day devotional detox for your soul, a spiritual journey to refresh you and guide you to greater peace, while helping you discover who God truly made you to be: His beloved. Renew your spirit with powerful affirmations of God's love with uplifting words of Scripture, journaling prompts for reflection, and practical challenges to spark joy. Bonnie will lead you to places of rest, where you can deeply experience the Savior's presence in your everyday life.
This beautiful guidebook will create space for your soul to breathe:
Soul Care Tips & Trail Notes – Reduce stress and nurture your body and spirit.
Daily Beloved Challenges – Brighten your day by taking simple soul care actions.
A Simple Prayer Practice – Deepen your intimacy with God through easy-to-enjoy prayer prompts, inspired by classic devotional practices.
A lot can happen in 40 days. A new rhythm. A new heart. A renewed faith.
Transform your life as you take the journey to say yes to God, embrace your true identity, rediscover your dreams, and begin your healing. Dare to enjoy each day fully and celebrate your calling as the beloved.
Review of Whispers of Rest by Bonnie Gray
Everyone has different needs and desires in their relationship with God. I feel like mine is off again on again and I truly need to take the time on a daily basis to spend one on one with the Lord.
The layout of this book is a perfect opportunity to do that. The author has structured each day so that you can truly focus on developing a personal relationship between yourself and God
I love the fact that she focuses on one particular word for the day. Stories and gospel, prayers and Gods whispers to you, you can tune in to exactly what is in your heart.
Opportunities to journal and develop experience daily life are also included to help build and restore your faith and closeness with God.
While this book is perfect for one on one use, you can also use it in prayer meetings or bible studies with others. With 40 days of focus on particular words that will bring the closeness and clarity you crave, it is a beautiful book that allows you to truly find your peace.
Whispers of Rest is a passionate work that comes from the authors soul. It will touch you and change you as you work through each day or week. Find your quiet time and use this book to help rebuild your close relationship with God and find the peace you desire.
I miss a church family. This book has shown me that I need to find that again to continue my development and relationship with God on a daily basis.
Disclaimer: Chris has personally reviewed the product listed above. She has not received any monetary compensation for her review but did receive a free book so she could evaluate and use it for this post. Her thoughts & opinions in this review are unbiased & honest and your opinions may differ.