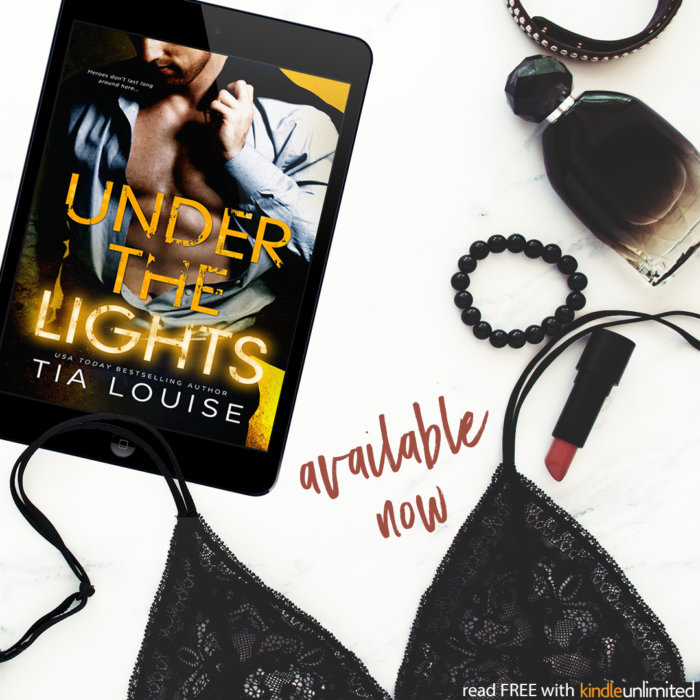 I could have sworn I have read and reviewed books by Tia Louise previously, but apparently this is the first book review I have published for this author here on my site. I have to apologize for that!
Tia Louise has a fabulous talent and this book is full of heartbreak and sad situations that will make it hard to get through yet you know you have to do it. However, if you are looking for the happy ending on this story, you have to wait until book two comes out later this month.
Warning – this read contains violence and triggers that may not be for you.

Affiliate links contained below
UNDER THE LIGHTS by Tia Louise
Series: Bright Lights
Publisher: CreateSpace Independent Publishing Platform; 1 edition (December 14, 2017)
ISBN-13: 978-1981705801
Synopsis:
Heroes don't last long around here…
Fall in love with the sexiest girl in New Orleans?
Check.
Prepare to die for her?
Double-check.
Larissa is the most beautiful woman I've ever seen.
She's the rising star of the Pussycat Angels, the hottest burlesque show in the French Quarter.
I'll never forget the first time I saw her.
The curve of her breast outlined by sparkling rhinestones.
Slim hips wrapped in black fishnets.
Long, dark hair…
She's the Dark Angel who stole my heart.
Her body is intoxicating, our love overwhelming.
Cat eyes and blood red lips.
Sizzling fingers on white-hot skin.
I couldn't keep my hands off her…
But her fame had a dark side,
A sinister shadow lurking under the lights.
I would do anything to save her…
He would do anything to see me dead.

UNDER THE LIGHTS by Tia Louise Review
There are some authors that have the secret to a fabulous story nailed down and Tia Louise is one of them. Always exciting with detailed elements that beg you to keep reading late into the night.
This new release is chalk full of pain, emotion, love, violence, tragedy, and heartbreak. So why read it? Because inbetween the lines there is a light there… but it will take until the next book to see it all.
The character development is awesome. You become so attached and invested in these characters that whenever something horrible or tragic happens, you almost feel the pain too.
I hated the ending. Hated it! I knew what was going to happen and did not want to face it at all. But yet, I know when we go through some pain, the happiness will come too.
Excellent read and a fabulous plot that is raw, edgy and dark, just like we like!
* Ecopy received for review consideration and affiliate links are contained within this review