I have an interesting book for you this week. I was asked to review a historical women's fiction novel and the synopsis reminded me a lot of my own mother's story so I was anxious to dive in. Happily I was not wrong.
For my thoughts on this interesting look into the world after World War II, check out my review below.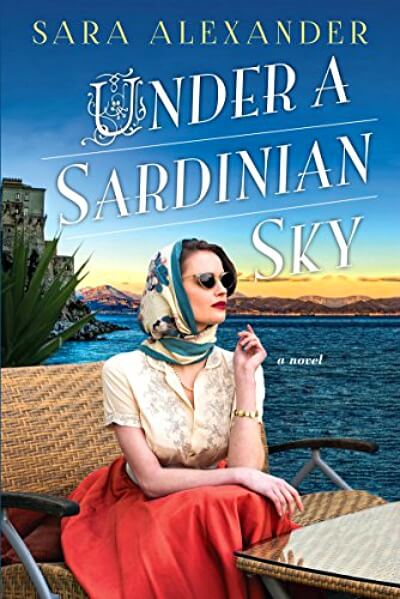 Under a Sardinian Sky by Sara Alexander
Publisher: Kensington
Publication Date: April 25, 2017
ISBN-13: 978-1496706362
Set against the beautiful backdrop of post-World War II Sardinia, Sara Alexander's evocative novel is a sweeping story of star-crossed romance between an American lieutenant and a local girl.
Sometimes a family's deepest silences hide the most important secrets. For Mina, a London-based travel writer, the enigmatic silence surrounding her aunt Carmela has become a personal obsession. Carmela disappeared from her Italian hometown long ago and is mentioned only in fragments and whispers. Mina has resisted prying, respectful of her family's Sardinian reserve. But now, with her mother battling cancer, it's time to learn the truth.
In 1952, Simius is a busy Sardinian town surrounded by fertile farms and orchards. Carmela Chirigoni, a farmer's daughter and talented seamstress, is engaged to Franco, son of the area's wealthiest family. Everyone agrees it's a good match.
But Carmela's growing doubts about Franco's possessiveness are magnified when she meets Captain Joe Kavanagh. Joe, an American officer stationed at a local army base, is charismatic, intelligent, and married. Hired as his interpreter, Carmela resolves to ignore her feelings, knowing that any future together must bring upheaval and heartache to both families.
As Mina follows the threads of Carmela's life to uncover her fate, she will discover a past still deeply alive in the present, revealing a story of hope, sacrifice, and extraordinary love.
Review of Under a Sardinian Sky by Sara Alexander
I introduced this review by saying the synopsis reminded me of my own mother's story. My mother was born and raised in Germany and lived through World War II. After the war, she went to work for the Americans on the base at the PX. It was there she met my dad.
There are many similarities in this story to my mom's story so as I was reading all of the intricate descriptions of life after the war about our main character, Carmela, I kept picturing my mother. I have a picture of her dressed just the way I envisioned Carmela dressing – similar to the one on the cover. This book became very personal to me.
The author brings us a detailed story of life on a small island and how a sheltered girl who has promised to marry has her life changed when the Americans come to town. With star crossed eyes, she finds that she now has hopes and dreams of a better, bigger life but yet guilt for wanting something better.
With ties to the family and the promise to marry, she feels trapped. Plus, there are underlying issues and more to the story than meets the eye that the author delicately weaves through the novel.
This story crosses many generations as it starts from today. Yet the bulk of the story is based in the past. I classify this as a historical romance, but not in the Regency genre. This is more of a women's historical fiction that's based around a romantic story. The rich history of the time blends perfectly with a touching love story.
The author takes us on a trip to the past with such detail and emotion it feels like you are right there with them- tasting food, smelling the air, watching the sea. It is a beautiful story with a lovely ending you don't expect.
This book is a perfect choice for a lovely long weekend when you just want to get away from it all. What a great Mother's Day gift too! Definitely one to check out!
Disclaimer: Chris has personally reviewed the product listed above. She has not received any monetary compensation for her review but did receive a free ebook so she could evaluate and use it for this post. Her thoughts & opinions in this review are unbiased & honest and your opinions may differ.