My husband is partially disabled and that makes it so hard for him to work out at all. With issues stemming from a car wreck years ago, his back, hips, and leg make it almost impossible for him to work out in a traditional manner. When I saw the press release on this gym, I knew I had to share it with you.
Perfect for anyone in any type of rehab situation or someone disabled, this gym will allow you to work out and become stronger in so many ways!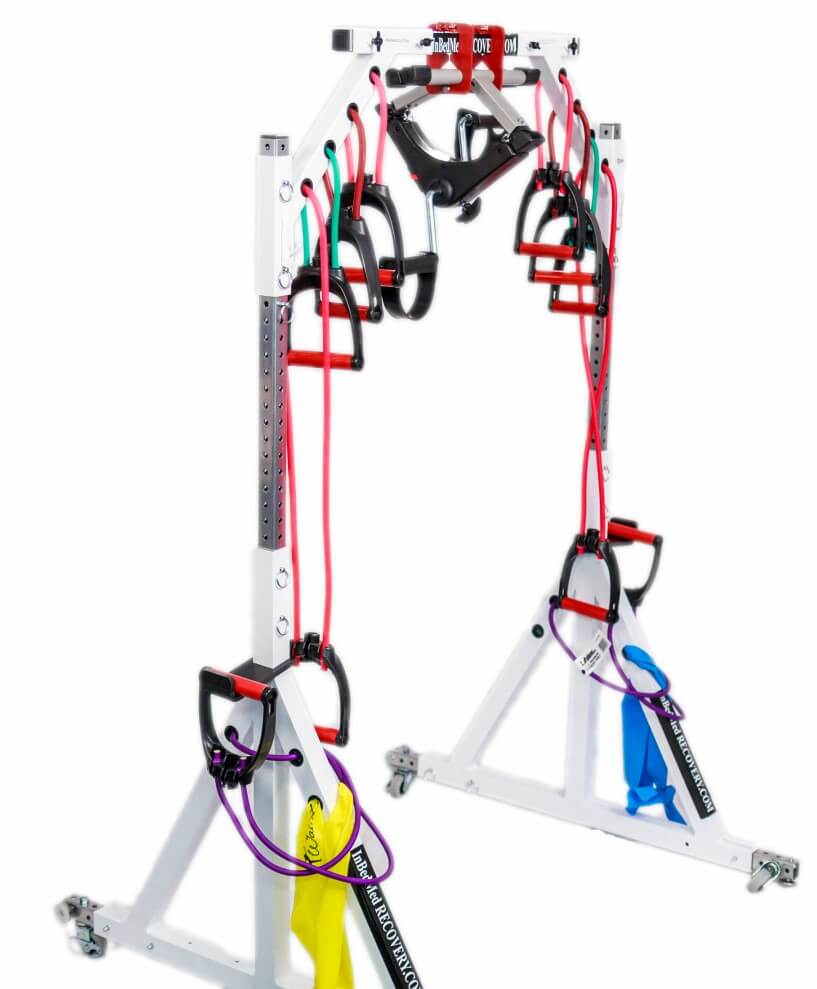 Introducing the ULTIMATE WORKOUT AND RECOVERY DELUXE REHAB AND EXERCISE CONVENIENCE GYM
From Home Gyms/Moms/Kids to disabled veterans, schools…and/or anyone who may be confined to bed or wheelchair short term or long term and anyone looking for convenient way to strength train rehab and work out without getting up…

The Ultimate Workout and Recovery Gym (UWAR) benefits wounded warriors and veterans as well as busy moms, homebound, injured athletes, paraplegics and spinal cord injury patients, bariatric patients, cancer and immune-compromised patients, stay-at-home mothers, caregivers, occupational and physical therapists, senior centers, nursing homes, hospitals, rehab clinics, fitness enthusiasts, schools, personal trainers, chiropractors, and anywhere this unit would aid those who are in bed or in a wheelchair achieve maximum fitness and recovery.
UWAR can stand alone bolted into the ground or can be mounted to a bed or chair utilizing thresholds and bed attachments, while accommodating people of all ages and athletic abilities.
Developed by a fitness/wellness expert, a mechanical engineer, and a doctor who sought to fill a need for the disabled and those whom have time constraints and need something fast, fun, and effective for working out and therapy. The Ultimate Workout and Recovery (UWAR) gym is made of steel and weighs under 50 pounds and is easily assembled. UWAR is PROUDLY made in The USA and is patented.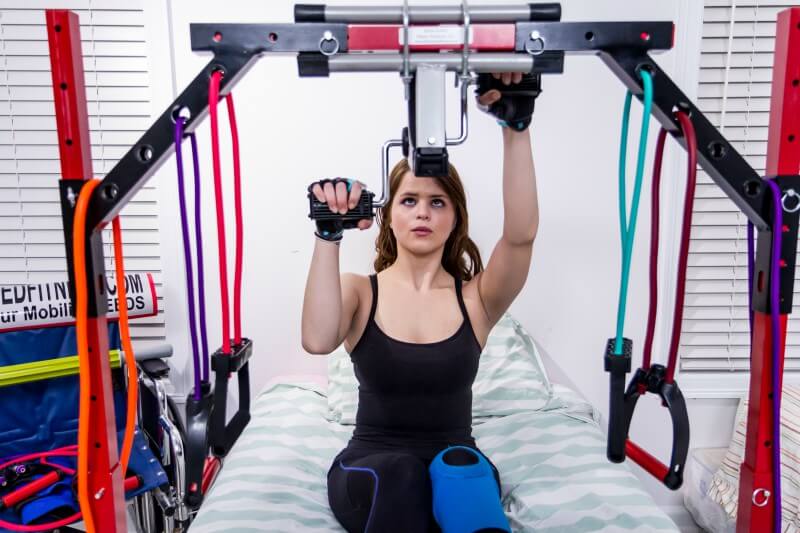 The Ultimate Workout and Recovery Gym includes the following:
• 1 Steel-Forged Aluminum Device
• 2 Thresholds to Secure System to a Bed, Recliner or Wheelchair
• 2* Bed Attachments, Optional Add on
• 8 Resistance Cords with Different Resistance Levels – 10 to 50 lbs.
• 8 Handles/Triple Cord Grips
• 1 Hand and Foot Cardio and Strength Peddler
• 1 Pilates Yoga Ball and Band Kit*
• 3 Rejuvenating Stress Balls
• 1 Fun to Use Massage Roller
• 1 Pair of Attractive Workout Gloves
• 6-8 Lock Pins
• Latex Free Bands are Available Upon Request
UWAR can attach to bed, chair or wheelchair or is sturdy enough to be a stand-alone unit when bolted into ground. It offers over 100 different exercises. Whether Pilates focused, therapy based, or used for cardio and strength training, the UWAR can be done in short bursts for a quick workout or for extended periods of time.
It is easy to set up, easy to adjust, and easy to store. There are no free weights, is low impact, and can be used assisted or unassisted for an expedited and creative fast, fun, and effective full body workout/therapy session.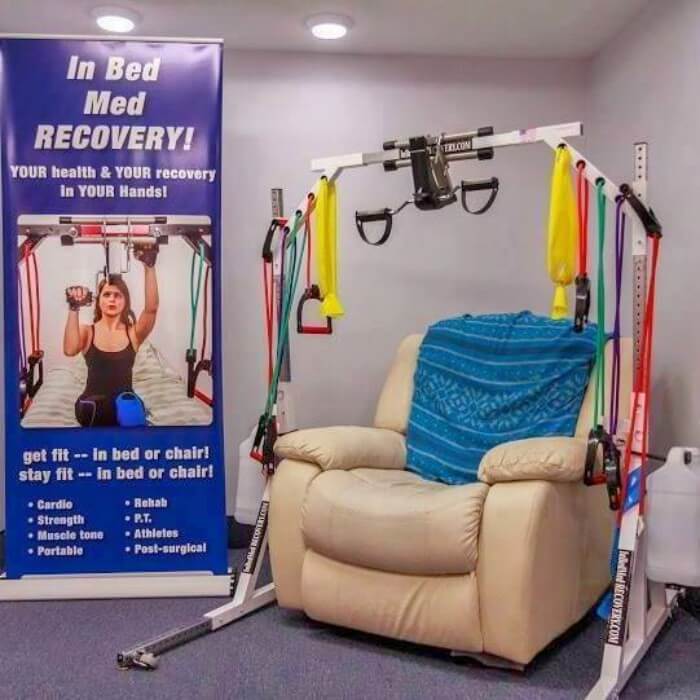 Several of the users and testimonials for UWAR include:
Wheelchair Users – imagine easily doing a cardio workout while in a wheelchair, or doing resistance and range of motion exercise while in bed or chair, unattended. There are many proven psychological benefits from physical activity, regardless of the level of ability.
Athletes – Professional and amateur athletes can work out even with an injured or recovering limb.
The devices are low impact, and can be used in a bed, den chair or wheelchair. The travel device is easily transported and can be on a bus or train. Fitness enthusiasts, prevent joint strain, giving hips, knees and ankles a break!
Veterans – At any level of function, veterans and their families/friends can benefit from the ability to work out anywhere, anytime. The device allows a cardio workout while strengthening and toning all muscle groups.
Personal Trainer, Athletic Trainer, OT, PT, Rehab Users – Avoid transferring patients or clients; Avoid fall risks for patients or clients; short and long term rehab, for post-op and injuries; upper and lower body workout; and help with getting in and out of bed or chair safely, while providing creative, fun and expedited therapy sessions.
Disclaimer- I was not compensated in anyway for this post