I have read and reviewed a couple of Karen White books now and I am excited to be along for this blog tour of her newest story I reviewed.
With this new release comes something completely different. It is a mixture of classic southern story, little bit of today and yesterday, and a bit of suspense thrown in for good measure. Let's not forget, a touch of romance too.
If you're a fan of Karen White, this is one book not to be missed. Check out my thoughts on this hot new release.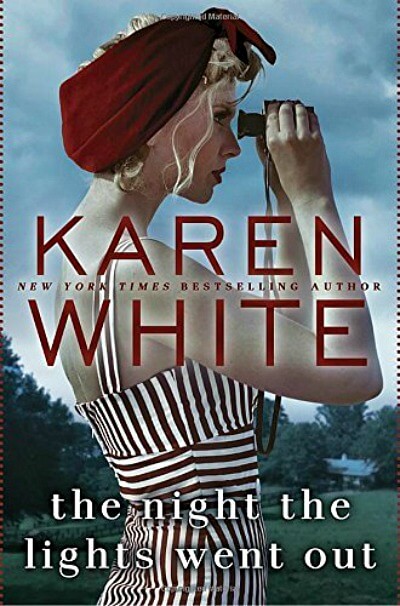 THE NIGHT THE LIGHTS WENT OUT by Karen White
Publisher: Berkley (April 11, 2017)
ISBN-13: 978-0451488381
From the New York Times bestselling author of the Tradd Street series comes a stunning new novel about a young single mother who discovers that the nature of friendship is never what it seems….
Recently divorced, Merilee Talbot Dunlap moves with her two children to the Atlanta suburb of Sweet Apple, Georgia. It's not her first time starting over, but her efforts at a new beginning aren't helped by an anonymous local blog that dishes about the scandalous events that caused her marriage to fail.
Merilee finds some measure of peace in the cottage she is renting from town matriarch Sugar Prescott. Though stubborn and irascible, Sugar sees something of herself in Merilee—something that allows her to open up about her own colorful past.
Sugar's stories give Merilee a different perspective on the town and its wealthy school moms in their tennis whites and shiny SUVs, and even on her new friendship with Heather Blackford. Merilee is charmed by the glamorous young mother's seemingly perfect life and finds herself drawn into Heather's world.
In a town like Sweet Apple, where sins and secrets are as likely to be found behind the walls of gated mansions as in the dark woods surrounding Merilee's house, appearance is everything. But just how dangerous that deception can be will shock all three women….

My Review of THE NIGHT THE LIGHTS WENT OUT by Karen White
The author used her typical story lay out in this new book. A little bit from yesterday, through the eyes of Sugar, a crotchety yet supportive older woman Merilee rents a house from. Her family history and story is woven through the events of today to make this an intriguing read.
With her main character, Marilee, she has crafted a recently divorced woman trying to make it on her own. Juggling life, work, children, and even balancing friendships and maybe a love interest, she is put to the test each day. But Marilee has history too! Things she has not told anyone. And, unfortunately, her nativity may backfire in ways she cannot fathom.
You know that something is going to happen, you just don't know when or what. All things are not as they seem in this engrossing story. The author dropped hints and clues on the way to an exciting and suspenseful ending.
Karen White is a master at blending history and stories from today with the flavor of the south. This book is loaded with so many different aspects, there's no way you can be bored. Highly entertaining, suspenseful, and even a bit gruesome, this is a read you cannot put down.
Disclaimer: Chris has personally reviewed the product listed above. She has not received any monetary compensation for her review but did receive a free ebook so she could evaluate and use it for this post. Her thoughts & opinions in this review are unbiased & honest and your opinions may differ.