* copy received for review consideration
Over the years of reading I'm sure I have read thousands of books. One thing I notice is that most people usually gravitate towards the same type of genre and I'm same.
I have been stepping out a little more into suspense and thriller type of stories because I've always enjoyed those. But I had the opportunity to read and review a psychological suspense book and I have to say, I truly am not sure how I feel about it.
This new release will be coming up shortly. I will try and express my thoughts in this review below.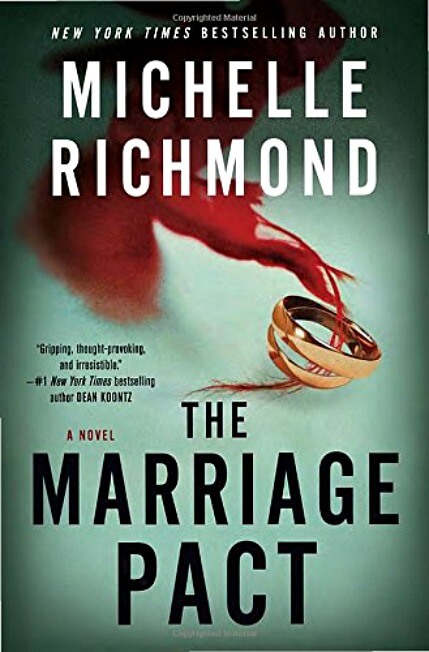 The Marriage Pact by Michelle Richmond
Publisher: Bantam (July 25, 2017)
ISBN-13: 978-0385343299
In this relentlessly paced novel of psychological suspense, New York Times bestselling author Michelle Richmond crafts an intense and shocking tale that asks: How far would you go to protect your marriage?
Newlyweds Alice and Jake are a picture-perfect couple. Alice, once a singer in a well-known rock band, is now a successful lawyer. Jake is a partner in an up-and-coming psychology practice. Their life together holds endless possibilities. After receiving an enticing wedding gift from one of Alice's prominent clients, they decide to join an exclusive and mysterious group known only as The Pact.
The goal of The Pact seems simple: to keep marriages happy and intact. And most of its rules make sense. Always answer the phone when your spouse calls. Exchange thoughtful gifts monthly. Plan a trip together once per quarter. . . .
Never mention The Pact to anyone.
Alice and Jake are initially seduced by the glamorous parties, the sense of community, their widening social circle of like-minded couples.
And then one of them breaks the rules.
The young lovers are about to discover that for adherents to The Pact, membership, like marriage, is for life. And The Pact will go to any lengths to enforce that rule.
For Jake and Alice, the marriage of their dreams is about to become their worst nightmare.
Review of The Marriage Pact by Michelle Richmond
I thought about this book many times before I excepted the review. I hesitated about reading it because it's not a typical storyline that I usually read. But I'm trying to branch out slightly and thought this would be a good addition.
Now that I have read this book I have decided I'm not good at these psychological reads. This book has many disturbing parts. I do have to give props to the author for her imagination and excellent writing ability to elevate the creep factor.
However, I did not enjoy reading most of the story. For me the best part was the ending. Not only because it was over, but also because of the outcome.
With intense situations that will make you uncomfortable and make it very difficult to turn the next page, you have to be in a good frame of mind to read this book. I'm not going to give away the plot or any of the twisted, creepy stuff, but just know there are factors in this book that could trigger issues and emotions.
Like I said prior, the author is extremely talented in the psychological twists and turns of the mind. This is one book you definitely will not forget, even if you try to. So if you love that type of story, you will enjoy this one!
Disclaimer: Chris has personally reviewed the product listed above. She has not received any monetary compensation for her review but did receive a free ebook so she could evaluate and use it for this post. Her thoughts & opinions in this review are unbiased & honest and your opinions may differ.