Olivia Rawling's life has just gone up in flames—literally. Olivia, or Livvy, is the pastry chef at an exclusive Boston dinner club. When her flambé dessert accidentally sets the building on fire, she knows it's time to get out of town.
Thus begins Louise Miller's charming debut novel, THE CITY BAKER'S GUIDE TO COUNTRY LIVING. A book about food, friends, and finding a home. For anyone who loved The Storied Life of A.J. Fikry or Girls in Trucks, this is the escapist, arm-chair read to cozy up with this winter.
Now available in paperback, I am excited to offer a giveaway for this perfect holiday read! I have not had the chance to review a copy, yet, but that is coming soon. Here is everything you need to know about this fun read and how to enter to win a copy for yourself or to gift to someone!
The City Baker's Guide to Country Living by Louise Miller
Publisher: Penguin Books; Reprint edition (November 7, 2017)
ISBN-13: 978-1101981214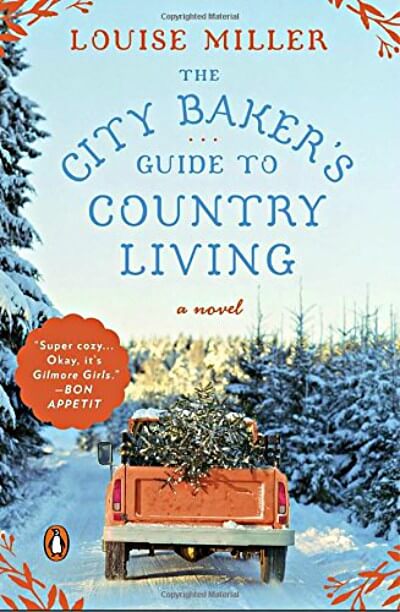 The City Baker's Guide to Country Living by Louise Miller
A full-hearted novel about a big-city baker who discovers the true meaning of home—and that sometimes the best things are found when you didn't even know you were looking
When Olivia Rawlings—pastry chef extraordinaire for an exclusive Boston dinner club—sets not just her flambéed dessert but the entire building alight, she escapes to the most comforting place she can think of—the idyllic town of Guthrie, Vermont, home of Bag Balm, the country's longest-running contra dance, and her best friend Hannah. But the getaway turns into something more lasting when Margaret Hurley, the cantankerous, sweater-set-wearing owner of the Sugar Maple Inn, offers Livvy a job. Broke and knowing that her days at the club are numbered, Livvy accepts.
Livvy moves with her larger-than-life, uber-enthusiastic dog, Salty, into a sugarhouse on the inn's property and begins creating her mouthwatering desserts for the residents of Guthrie. She soon uncovers the real reason she has been hired—to help Margaret reclaim the inn's blue ribbon status at the annual county fair apple pie contest.
With the joys of a fragrant kitchen, the sound of banjos and fiddles being tuned in a barn, and the crisp scent of the orchard just outside the front door, Livvy soon finds herself immersed in small town life. And when she meets Martin McCracken, the Guthrie native who has returned from Seattle to tend his ailing father, Livvy comes to understand that she may not be as alone in this world as she once thought.
But then another new arrival takes the community by surprise, and Livvy must decide whether to do what she does best and flee—or stay and finally discover what it means to belong. Olivia Rawlings may finally find out that the life you want may not be the one you expected—it could be even better.
Louise Miller's second novel, The Late Bloomers' Club, is forthcoming from Pamela Dorman Books/Viking.
~~~~~~~~~~~~~~~~~~~~~~~~~~
Check out my review on this new release!
Enter to Win a Copy
One lucky winner will win a paperback copy of The City Baker's Guide to Country Living by Louise Miller. Here is how to enter!
Giveaway Details: This giveaway is open to US Residents age 18 or over. You must complete the Mandatory Entry to be eligible. Follow the directions in the Giveaway Tool below. This giveaway will close on November 26, 2017 at 11:59pm PT Time.
Disclaimer: I was not compensated for this post in any way and have posted as a courtesy only.