I think one of the hardest things to change on a woman's body is her abdominals. After babies and aging, it's tough to get those muscles back in shape.
As for me, that is the place where I hold weight easiest and I can always tell if I have eaten something that doesn't agree with me as my stomach will actually swell.
So I was introduced to this cool new exercise tool that can really help you improve your abdominals as well as your bootay, legs, and back. What I like about it the most is that you don't even have to get on the floor!
Check out this brand new product called AB-EZE by NASM certified personal trainer Missy Reder. She's 47 and the mother of four children. I think she has a winner.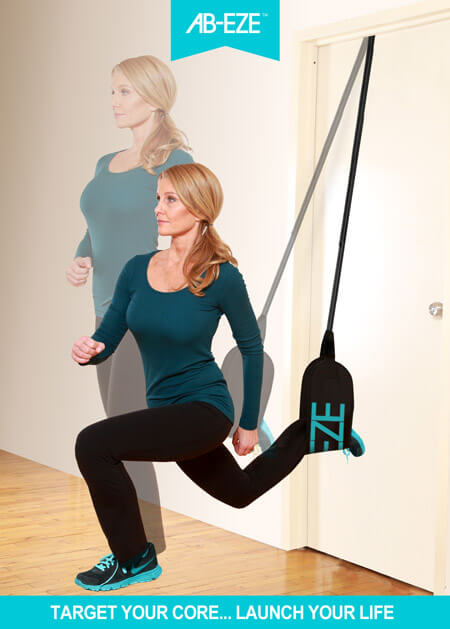 Target Your Core With Ease Using AB-EZE
The AB-EZE suspension trainer is a smart, new product and new way to strengthen the core. Based on the trapeze harness found on a catamaran, the revolutionary design supports the body against gravity to specifically activate the abs, back, glutes, and leg muscles. (The name AB-EZE combines abs, ease and trapeze).
AB-EZE anchors over any door, then by leaning on the comfortable support pad, muscles will instantly engage. Intensity changes with the press of a button to lengthen or shorten the strap and changes in body positions enhance the desired results. AB-EZE targets specific areas to tone: Firm and lift the butt; Sculpt abs and shrink waistline; Strengthen back; and, Shape and define legs.
Don't have a door? AB- EZE attaches to any fixed point or interchanges with any fitness system. The well-crafted, intuitive technology, storage, and portability make it easy to use. In just seconds, AB-EZE conveniently turns home, office, dorm, or hotel room into a personal gym.
AB-EZE will transform one's physique without changing a lifestyle. No time to work-out? In just minutes, one can efficiently strengthen core wherever and whenever their schedule permits; between meetings, while baby is napping, as dinner cooks, when taking a study break, or even watching TV or talking on the phone… AB-EZE is the perfect solution for busy people because it turns unused minutes into body changing moments without breaking a sweat or even changing into workout clothes!
AB-EZE is for everyone of all ages; whether just starting out or a fitness pro. The accompanying manual includes a variety of easy to follow beginner to advanced exercises from traditional movements or a fun, dance style workout.
Take a minute to check out AB-EZE. It is a fun and cool way to target those tough areas!
Grab the Coupon Code
Missy is offering the readers of A Midlife Wife a savings code on your purchase!
Use code: wife20 for $20 off. Sweet!
Disclaimer: I was not compensated for this post in any way and have posted as a courtesy only.