Several months ago I was able to start a new series by a great writing duo about MMA fighter's with their first book, Dirty Boxing. Not usually a storyline that I gravitate to but I was thrilled that it was a great story! So when the second in the series came up for review, I was all over that.
If you love a tough, yet tender alpha, you will want to check out this book! Here are my thoughts on this 5 Star new release.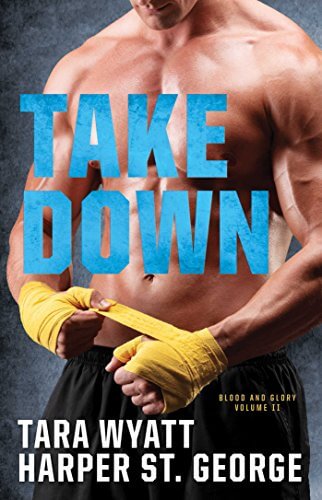 Take Down by Harper St. George and Tara Wyatt
Book 2 in the BLOOD AND GLORY series
Publisher: Pocket Star
Publication Date: November 13, 2017
Sold by: Simon and Schuster Digital Sales Inc
MMA champion Gabriel "The Sandman" Maddox prefers to live his life quietly and intensely. He plays by the rules, respects the sport, and trains harder than any other fighter. It's this unwavering focus that helps him block out the pain from a devastating loss in his past. He spends his days slaying his monsters in the octagon, and his evenings numbing himself with sexual conquests. With his painful baggage, he's not looking for anything beyond his no-strings-attached lifestyle.
But journalist Megan Sinclair won't leave him alone. She's intensely drawn to Gabe from the moment she meets him, and wants to know more about the secretive man who both intrigues her and makes her heart race. As she gets to know the quiet, brooding fighter, she realizes that giving in to their intense chemistry could mend her scars. Will these two be able to heal each other, or will ghosts from the past keep them apart?
Take Down by Harper St. George and Tara Wyatt
Have you ever met someone you immediately gravitated to? You knew you needed to get to know them? That they were supposed to be in your life? That's what happened in this romance.
As a second in the series, this book does standalone but wraps in the friendship and a bit of storyline from the first book Dirty Boxing.
Take Down is an intense book in many ways. We meet a guy who is so hurt and broken that he doesn't think he deserves anything better out of life.
But Megan has fallen hard. She's drawn to him Like a moth to a flame. When she is with him, her soul is complete but he feels unworthy.
With intense passion, off the charts heat and emotion, this book will truly get under your skin. I hated seeing it end but I was thrilled with the final result. I can only hope that there are a few more books in the series up their sleeves.
Definitely a 5 Star read! I was captivated!
Disclaimer: Chris has personally reviewed the product listed above. She has not received any monetary compensation for her review but did receive a free ebook so she could evaluate and use it for this post. Her thoughts & opinions in this review are unbiased & honest and your opinions may differ.