This site is one of my creative outlets. I use it to fulfill my enjoyment of reading and review of books I enjoy, health, a healthy mind, great foods, and other things that matter to me.
While I love to share what relaxes me and fulfills me in many ways, my main job is that of an instructor in a business department of a local college and a small business owner who serves other small businesses.
Because of my love of business and my 35 years of experience in business arena, I still continue to want to improve and develop my business acumen. Learning never ends. That's why I occasionally will read, review, and share business related books that also work towards developing us personally too.
The book I am going to share with you today is a unique blend of many interests. A faith-based business motivational teaching book, written by an entrepreneurial ministering man. He has much knowledge in the business arena.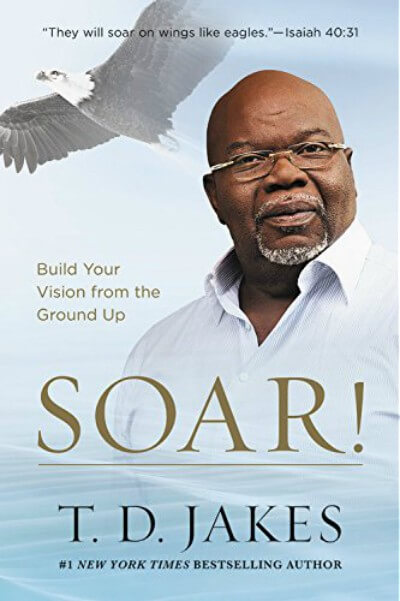 SOAR! by T.D. Jakes: Build Your Vision From the Ground Up
Publisher: FaithWords
October 10, 2017
ISBN-13: 978-1455553907
SOAR! by T.D. Jakes: Book Review
Soar! is a blend of so many different thoughts but it comes down to empowering women and the entrepreneurial owner with a path towards finding and developing the perfect niche in your business.
With a blend of examples and wisdom, Jakes lines out strong methods that can help you identify your strengths and build your business with smart functionality but in a manner that will help you not just control the reigns of business, but also be able to guide it to financial strength and development.
The author talks a lot about knowing your market, developing your marketing, tailoring it to the target area and those that you will serve. He lays out smart marketing plans that will help you refine exactly where you want your business to go and whom it will serve.
He uses the example of the Wright brothers often throughout this book because of their study and knowledge of wind and how it will affect their ultimate goal. They were willing to test and retest. Changing things, tweaking things, expecting pitfalls but working through the resolutions.
This book is a realists look at how business needs to be set up and planned for in today's market. Yes, a business can be a flash in the pan, have fast growth, or can be super slow to start. He asks the questions:
How are you going to take the start and tweak it towards your long-term goals?
How do you find those people that will work with you and support you in your enterprise?
What about leadership and your financial and fiduciary responsibilities?
Do you know how to deal with these?
The author walks us through every part of running owning and managing a business plus our mindset too.
Sprinkled with biblical verses that support his knowledge and smart advice along with proven techniques to build a solid marketing plan and business, Soar! is a perfect book to read if you are in business or contemplating starting any type of business, online or offline, no matter your age!
Who do you know that would benefit from this type of knowledge?
Disclaimer: Chris has personally reviewed the product listed above. She has not received any monetary compensation for her review but did receive a free advance paper copy so she could evaluate and use it for this post. Her thoughts & opinions in this review are unbiased & honest and your opinions may differ.