I have grown so fond of Kate Meader and her fabulous stories over the years. I have enjoyed every story she I have gotten my hands on, especially her hot Fireman series, Hot in Chicago. Yum! Her newest series I have been reviewing is the Chicago Rebels sports series and it is great too!
Releasing today is the latest in this series, So Over You, and I am excited to share my thoughts on the newest installment about the delicious men on this team. Okay, and some thoughts on the other important stuff too!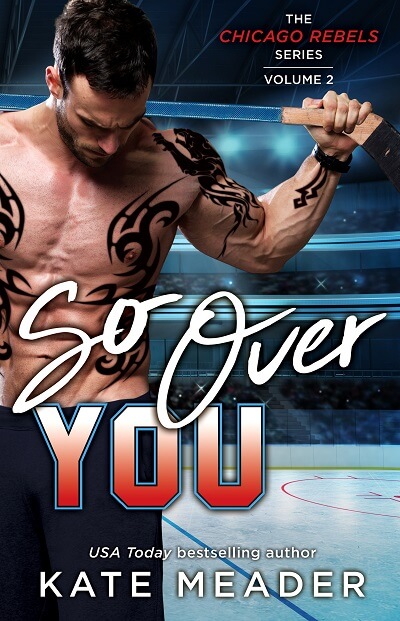 So Over You by Kate Meader
The Chicago Rebels Series
Publisher: Pocket Star
Publication Date: December 4, 2017

Synopsis:
Three estranged sisters struggle to sustain their late father's failing hockey franchise in Kate Meader's SO OVER YOU, Book 2 in the new sizzling Chicago Rebels series. Middle sister Isobel is at a crossroads in her personal and professional lives. But both are about to get a significant boost with the addition of a domineering Russian powerhouse to the Rebels…
Isobel Chase knows hockey. She played NCAA, won silver at the Games, and made it thirty-seven minutes into the new National Women's Hockey League before an injury sidelined her dreams. Those who can't, coach, and a position as a skating consultant to her late father's hockey franchise, the Chicago Rebels, seems like a perfect fit. Until she's assigned her first job: the man who skated into her heart as a teen and relieved her of her pesky virginity. These days, left-winger Vadim Petrov is known as the Czar of Pleasure, a magnet for puck bunnies and the tabloids alike. But back then…let's just say his inability to sink the puck left Isobel frustratingly scoreless.
Vadim has a first name that means "ruler," and it doesn't stop at his birth certificate. He dominates on the ice, the practice rink, and in the backseat of a limo. But a knee injury has produced a bad year, and bad years in the NHL don't go unrewarded. His penance? To be traded to a troubled team where his personal coach is Isobel Chase, the woman who drove him wild years ago when they were hormonal teens. But apparently the feeling was not entirely mutual.
That Vadim might have failed to give Isobel the pleasure that was her right is intolerable, and he plans to make it up to her—one bone-melting orgasm at a time. After all, no player can perfect his game without a helluva lot of practice…
So Over You by Kate Meader Book Review
When three sisters end up owning a hockey team, being surrounded by delicious men can be a good thing or a bad thing. In this instance, it's definitely a good thing.
Hockey is not one of of the sports I usually follow, however I can definitely get used to steamy hot guys that are associated when Kate Meader is involved. She knows how to write steam!
This book to me was not as passionate or emotional as the first book in the series. Much of the plot was dealing with the sport side of the story and I didn't feel quite connected to these two main characters. However, I loved them together. Great chemistry and I love seeing Vadim caring for Izzy.
There are many parts that were amusing and several parts that were sad. But to me the ending can be the most magical and this one ended with a wonderful feeling.
With one more sister to go, the next book in the series should be interesting and tie everything together. A wonderful series and definitely one to read, whether you love hockey or not.
Disclaimer: Chris has personally reviewed the product listed above. She has not received any monetary compensation for her review but did receive a free ebook so she could evaluate and use it for this post. Her thoughts & opinions in this review are unbiased & honest and your opinions may differ.