The holiday season is here and that means more people will be traveling. It can also mean more stress! Some people think that planning for a trip is the most stressful part. Maybe for you it is the hurry up and wait part. Perhaps it is traveling abroad for the first time and learning how to deal with transit or exchanges.
These may be some of the stressful issues travelers run across, but for many women, packing light is HARD! How do you choose what stays and goes?
We all know that you're supposed to pack light. But what actually happens when you start packing for your trip?
• For one thing, you want to have clothing for every possibility of weather and event. After all, who knows what kind of invitations you'll get while on the road.
And what if the weather doesn't follow what was predicted on The Weather Channel?
No matter how careful you are to cover all weather and event possibilities, you're likely to end up having some wrong choices. So don't even try. You can buy something on the road if necessary. And that'll give you a story to tell when you return home.
• Or maybe you're someone who wants to have plenty of clothing choices each day. At home, you like looking at all your outfits each morning and choosing something to match your mood.
Well, you will find that it is time to get over it. Before departure, you need to accept that your outfit of the day is not important when traveling. That idea may be hard to swallow, but you'll enjoy your trip more if you aren't continually concerned with making a fashion statement.
In fact, you probably only wear 50% of what you pack when you over pack. Am I right?
Here are some tips that will help you learn to pack light for any length trip you are planning.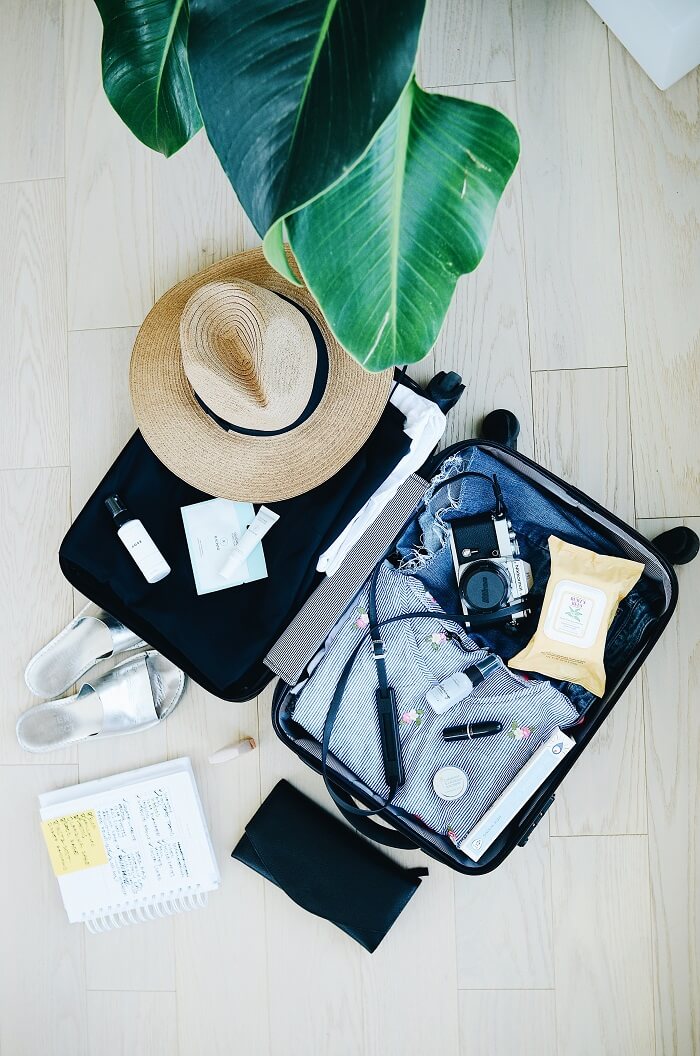 Smart Tips for Packing Light
Start Early – Edit Later
Start a packing list a few weeks in advance of your departure. Having a packing list is a good way to ensure that you won't forget anything essential.
Give yourself the freedom to include everything that enters your mind. It's just a rough draft that you'll edit drastically later.
A packing list will organize you. It helps you decide what to take and also reminds you about what you need to buy before departure.
But keep in mind that you can buy toiletries, t-shirts, and more at your destination.
Airline Restrictions
Airlines are getting more and more restrictive about both checked and carry-on bags. Double check what your airline allows, as well as the newest restrictions about electronic items.
Once you know how much luggage you'll be allowed, you can pack with the following ideas in mind.
• Wear your heaviest clothing items on the plane.
• If you're taking more than one pair of shoes, wear the heaviest ones on the plane.
• Avoid taking heavy items like shampoo and conditioner that you can buy at your destination.
• Pack your purse or daypack in your checked bag so that you can use a larger bag as a 'purse' to carry on.
Re-evaluate
Leave your suitcase open on a table so that you can add items one by one. Re-evaluate each one before adding it, and don't take any items 'just in case.' Remember, layers and double duty clothing work best.
Check each item off your list once it's in your bag so that you don't have to go through all the contents to make sure everything on the list is inside.
Finish packing a few days before departure to avoid last minute stress. Then on departure day, add items that you couldn't pack in advance, like toothbrush, hair brush, etc.
At the Last Minute
Make sure to put medicine, driver's license, passport, snacks, reading material, allowed electronic devices and chargers in your carry-on – not in your checked bag.
Before you leave, scan your itinerary, passport, travel documents, and credit cards. Email the scanned copies to yourself and to a trusted friend.
Last but not least, enjoy your trip!