Sometimes a book just catches you off guard and you have to tell everyone about it! I read this gem the other day and knew I just had to publish a review here for you. For a lighthearted and fun read, you have to one-click this upcoming new release! Here are my thoughts!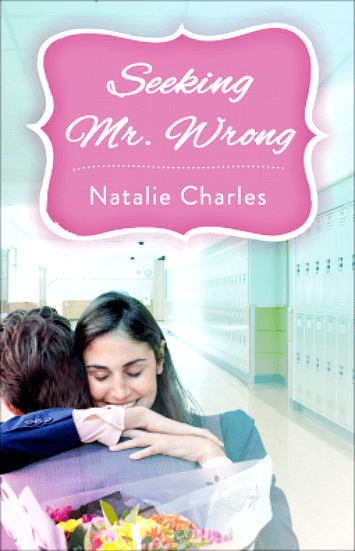 Seeking Mr. Wrong by Natalie Charles
Publisher: Pocket Star
Publication Date: February 13, 2017
Sold by: Simon and Schuster Digital Sales Inc
ASIN: B01M8MC973
In this warm, charming, and hilarious romance, a kindergarten teacher and children's book author attempts to write erotica—and sets out to find the right Mr. Wrong for some hands-on inspiration.
Lettie Osbourne has lived her whole life by the book. Sweet, predictable, and certainly not living life on the edge, she's always been content to make a living as a kindergarten teacher who writes adorable children's books on the side. After her fiancé leaves her, Lettie decides she is perfectly content to accept her fate as mother to her beloved dog Odin and favorite auntie to her niece and nephew.
But then everything changes.
When Lettie's publisher decides to sell only erotica, her editor convinces her to turn up the heat and throw some spice into her vanilla life. Lettie sets out to find the perfect man to inspire her writing…and finds him in her school's vice principal, Eric Clayman. As Lettie and Eric grow closer and her writing gets steamier, she's left wondering: is Eric Mr. Wrong? Or Mr. Right?
My Review of Seeking Mr. Wrong by Natalie Charles
I have fallen for Natalie Charles!
This book has every thing we want in a romance! This lighthearted read is funny and fun, sexy romp! It is so entertaining, I never wanted it to end.
I loved the story line as it is unique and hilarious in parts! A kindergarten teacher ends up writing erotica. What could possible go wrong? Except for Mr. Wrong, who is a sexy dreamboat who steams up the pages, and the teacher, in many delicious ways!
The author has given us a delightful story that wraps you up so you never want to leave the warm comfort of the pages she has woven for us. Sigh…
A sweet romance, with a few glitches along the way. After all isn't life that way? I am definitely reading more from this gem of an author! I loved this one!
Disclaimer: Chris has personally reviewed the product listed above. She has not received any monetary compensation for her review but did receive a free ebook so she could evaluate and use it for this post. Her thoughts & opinions in this review are unbiased & honest and your opinions may differ.