I have read and reviewed many of Chantal Fernando's books over the past few years. Many of them have featured the motorcycle club, Wind Dragons. A few months ago, she started a new series, The Conflict of Interest, and I loved that first novella to kick it off, Breaching the Contract.
With her newest book in this new series coming out soon, I am pleased to share my thoughts on this new release, Seducing the Defendant.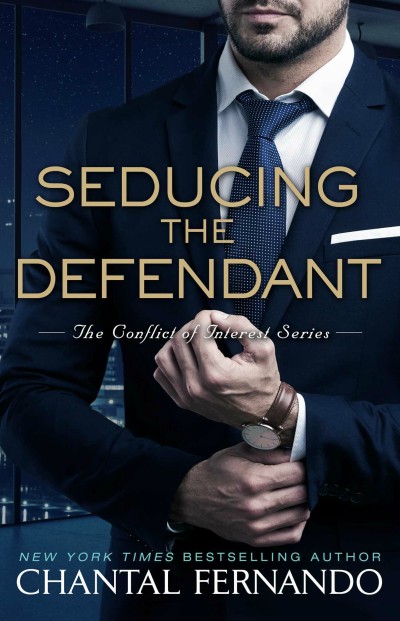 Seducing the Defendant by Chantal Fernando
Series: The Conflict of Interest Series (Book 2)
Publisher: Gallery Books (November 14, 2017)
ISBN-13: 978-1501172366
Jaxon Bentley is a hardnosed criminal lawyer whose entire life revolves around his work. He's been asked to represent Scarlett Reyes, a woman accused of murdering her police officer husband in cold blood. All the evidence points to Scarlett being guilty and Jaxon is sure it's an open and shut case.
But when he meets his client, he can't help but feel that she's innocent and that there's more to the story than meets the eye. With a bit of digging, he uncovers a connection to the notorious Wind Dragons Motorcycle Club and realizes that Scarlett's case is a complicated and difficult one. It certainly doesn't help that the two share an immediate and passionate attraction. Will Jaxon be able to prove Scarlett's innocence or are the two doomed to fail both in court and as a couple?
Seducing the Defendant by Chantal Fernando Review
As I mentioned in my opening, I have read many of this author's books. I have enjoyed them all too. So I was excited to break into this new book.
I was happy to see some familiar names, especially a tie into the Wind Dragons and the first book, in this new series. I really loved Jaxson. So sweet and loving and his relationship with Scarlett is so special.
However, something is missing. I never felt that big connection. The passion was missing. For me, this book read just like a regular romance, with nothing grabbing me and sucking me in.
The story is great and I loved the plot. But there were a few places that the story just did not ring true. And areas that should be heartbreaking and leave me gasping for air, were just flat.
Did I miss something in this book? Did something change with the author's writing style? I am not sure, but I really wanted to fall in love with this book. In many ways I did, but over all, it was good but not over the top. I hope she finds her mojo again for the next story in the series.
Disclaimer: Chris has personally reviewed the product listed above. She has not received any monetary compensation for her review but did receive a free ebook so she could evaluate and use it for this post. Her thoughts & opinions in this review are unbiased & honest and your opinions may differ.