I have been so thrilled to be able to enjoy and review the entire Royal series by Teri Wilson. From the very first one, this series is full of emotion and love. So if you're a sucker for romance, you've got to read the latest and final book.
Royally Wed by Teri Wilson
The Royals series
Publisher: Pocket Star
Publication Date: November 13, 2017
Sold by: Simon and Schuster Digital Sales Inc
ASIN: B06ZZBDMPN
Teri Wilson's Royals series returns with this charming and witty retelling of the timeless classic MGM film Royal Wedding starring Fred Astaire.
When Asher Reed, an American classical musician, is hired as a last minute replacement to perform at the royal wedding of Princess Amelia in Great Britain, he's hoping he can shake his recent bout with performance anxiety long enough to get through the festivities and get his career back on track. Little does he know that his life is about to change forever.
As a guest of Buckingham Palace, he knows he has no business even speaking to the princess, but he's completely awed by her beauty and more than a little intrigued by her rebellious spirit. Still, he definitely knows he has no business kissing her silly at the fitting of her wedding gown. He's there to perform, not cause a royal scandal. But when he stumbles upon her groom's appalling secret, the fate of the princess and the British Crown suddenly rest squarely in his cello-playing hands….
With Teri Wilson's signature "endearingly charming and delightfully sizzling" (USA TODAY bestselling author Nina Bocci) prose, Royally Wed is a delightful whirlwind romance that will leave you breathless and have you out of your seat for a standing ovation.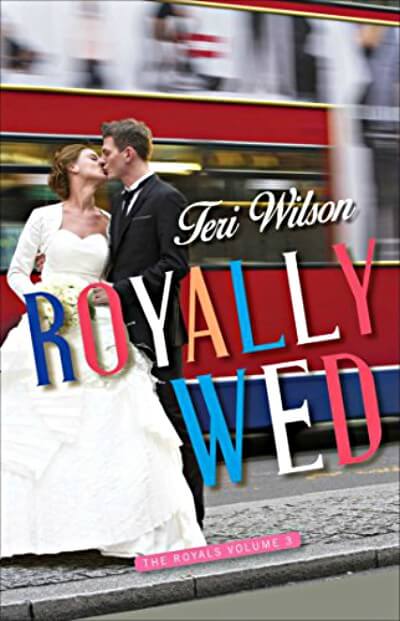 Review of Royally Wed by Teri Wilson
This series has been so good. Each book is a take off on a classic romance movie and Royally Wed is a spinoff from the classic film Royal Wedding.
I think I spent half of the time reading this story in tears. There's so much emotion built into this book, it really got to me for some reason.
Maybe it's the princess theme where she is being forced to marry someone she doesn't love. Maybe it's the stranger who makes a huge impression in her life. Maybe it is the music that reaches into her soul. Regardless of what was, this book is beautifully written and has made a lasting impression on me.
Teri Wilson has taken this spin off and created a storybook wedding of the season that you will never forget. Maybe you won't feel the emotion like I did, but this romance is full of passion, heartbreak, and ultimately, love. Another classic story for the ages.
And to celebrate the final book this royal series, I'm excited to be able to offer a giveaway for the entire series!
Enter to Win the Royal Series!
Royals Giveaway:
Enter to win the complete Royals Series! The giveaway will be one galley each for Volumes 1-3: Royally Roma, Royally Romanov, Royally Wed. You can enter more than once but you can only win once! U.S. only please.
Giveaway Details: This giveaway is open to US Residents age 18 or over. You must complete the Mandatory Entry to be eligible. Follow the directions in the Giveaway Tool below. This giveaway will close on November 30, 2017 at 11:59pm PT Time.
Disclaimer: Chris has personally reviewed the product listed above. She has not received any monetary compensation for her review but did receive a free ebook so she could evaluate and use it for this post. Her thoughts & opinions in this review are unbiased & honest and your opinions may differ.