Do you remember back in those awkward years you were trying to find yourself? Where you didn't know what you wanted to do or how you even fit into the world? Remember those awkward feelings when you had a major crush on someone? Maybe you were even a little bit like a stalker.
The best selling writing duo Christina Lauren has crafted another winner with their newest release I was able to review. It brings to mind sweet memories and a fantastic plot that you were going to love.
These two ladies craft amazing stories that have become such a favorite of mine and I am excited to share with you their newest release.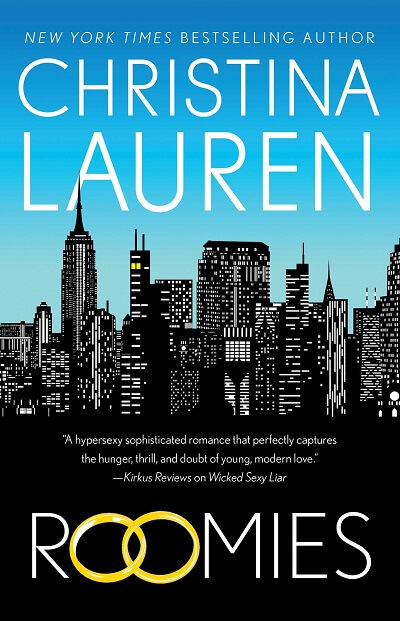 Roomies by Christina Lauren
Publisher: Gallery Books (December 5, 2017)
ISBN-13: 978-1501165832
Marriages of convenience are so…inconvenient.
For months Holland Bakker has invented excuses to descend into the subway station near her apartment, drawn to the captivating music performed by her street musician crush. Lacking the nerve to actually talk to the gorgeous stranger, fate steps in one night in the form of a drunken attacker. Calvin Mcloughlin rescues her, but quickly disappears when the police start asking questions.
Using the only resource she has to pay the brilliant musician back, Holland gets Calvin an audition with her uncle, Broadway's hottest musical director. When the tryout goes better than even Holland could have imagined, Calvin is set for a great entry into Broadway—until his reason for disappearing earlier becomes clear: he's in the country illegally, his student visa having expired years ago.
Seeing that her uncle needs Calvin as much as Calvin needs him, a wild idea takes hold of her. Impulsively, she marries the Irishman, her infatuation a secret only to him. As their relationship evolves and Calvin becomes the darling of Broadway—in the middle of the theatrics and the acting-not-acting—will Holland and Calvin to realize that they both stopped pretending a long time ago?
Roomies by Christina Lauren: Book Review
One of the things I enjoy the most about reading a Christina Lauren book is the fact that they're able to completely launch you into the story. This book, with its great plot, brings back all of those feelings of uncertainty and fear as we were launching our independence in the world.
The love of family really shines through in this story. Being able to give of yourself without really wanting anything in return is a major part of this plot when Holland is able to find the perfect person for her uncles Broadway musical. The only problem is the new musician is not exactly in the United States legally so why not do something outrageous and crazy?
Written with plenty of humor, sweetness, emotion, angst, hotness, romance, love, and even a sweet ending that you have to wait and wait for, this story offers everything you could want in a contemporary romance. I even had a few emotional moments of my own as I was pulling for them to figure it all out.
I love the idea behind this book and the incredible writing skills these women bring to the table make it worth every second you spend falling for Holland and Calvin. I'm hard-pressed to ever find fault with this writing team because they know how to tell the story that you will come back to time and again.
Another 5 star winner for me in this glorious trip to the Big Apple as seen through some star struck and not so star struck eyes. You deserve this read!
Disclaimer: Chris has personally reviewed the product listed above. She has not received any monetary compensation for her review but did receive a free ARC so she could evaluate and use it for this post. Her thoughts & opinions in this review are unbiased & honest and your opinions may differ.