When I first started on my weight loss and healthy living changes one of the first things I did was begin juicing. I had juiced on and off a few times, but at the time I only had a blender so the results were not as good. Nor was the taste. It was thick and pulpy.
Getting to the interior structure of the vegetable or fruit is important as that is where the nutrients really lay. Using a juicer or extracting the juice, like I do, helps your body absorb the goodness quickly so it can deliver the vitamins and minerals to your body easily. Plus it makes the juice taste better and go down easier.
Our bodies hold a lot of waste and debris from our food consumption. So cleansing your system now and again really helps you feel amazing and it will kick start a healthy diet. The last thing you want to do after drinking a lovely green juice is devouring a carb loaded pizza or burger! At least my mind will resist for a few hours! lol
This is a recipe that I use often in my juicing regime. It helped me kick start my weight-loss and flushed my system. Celery is a powerful veggie, loaded with so many fat flushing nutrients. Cucumber is too. Your body will thank you!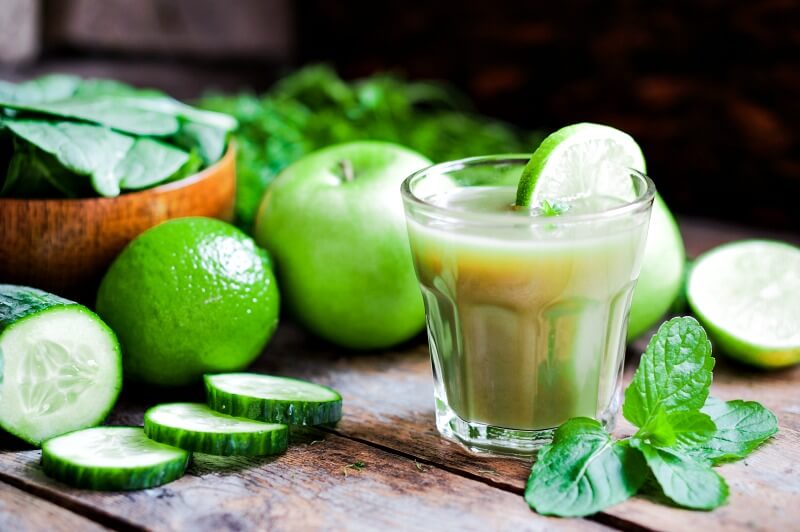 Green Juice Cleanse Recipe
1-2 stalks celery
2-3 kale leaves
1 small green apple
1 handful of parsley
1 small cucumber or 1/2 large
1 lime
1 lemon (optional)
Water to Blend, if necessary
I use a Nutrabullet extractor to do my juicing. This will fill the large cup. I blend everything except the apple and 1/2 the water first for a few seconds, then add the apple and the rest of water, if necessary, to complete.
Makes 32 oz. You can drink it all at once, or store in a mason jar in the fridge up to 3 days.
For best results on a system cleanse, drink one 32oz juice once a day for a week. Or you can drink 2 per day for 3 days. Only eat clean low carb foods, focusing on veggies and fruits with small sides of healthy proteins. Eggs, chicken, turkey, salmon, cottage cheese, almonds, etc.
Feel free to tweak this green juice cleanse recipe to your tastes. Let me know what you think!
Disclaimer: I am not a doctor nor do I play one on TV. This is my story and how I get results. Your results will be different because every body is different.