Copy received for review purposes
Have you ever met someone whose faith in God just really was so evident in their life that it made an impact on you? You could you see the peace and grace emanating from their soul?
I have had the pleasure of knowing many people like that. My mother-in-law was one of those people. It was humbling to be around her even as she was fighting cancer for the fourth time.
I have faith in God and faith in myself but I'm always so humbled when I meet someone that is just so filled with the knowledge and the peace of the Lord. I'm striving every day to become more like that.
The process led me to this new book called remarkable faith by Shawna Letellier. Here are my thoughts.
Remarkable Faith by Shawna Letellier
Series: Remarkable (Book 1)
Publisher: FaithWords (July 11, 2017)
ISBN-13: 978-1455571680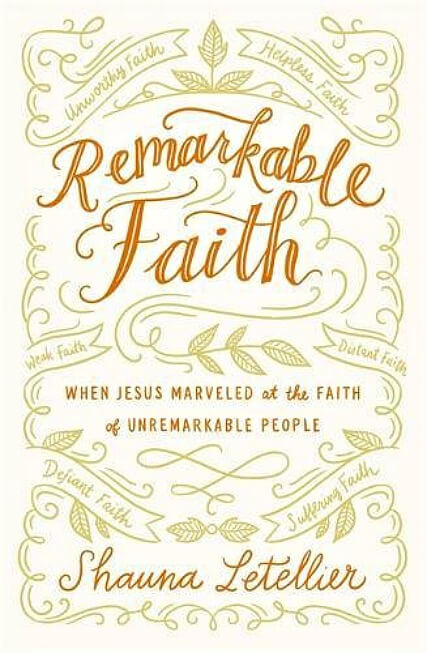 This collection of inspirational vignettes, based on eight of the Bible's unlikely examples of faith, will give readers a fresh intimacy with Jesus.
REMARKABLE FAITH tells the stories of people whose faith was of such quality that Jesus himself marveled at it-people who were broken, needy, and dependent. These eight inspiring vignettes weave history, theology, and fictional detail into their biblical accounts to bring relief and a new perspective to those whose faith feels unremarkable.
Written to encourage and relieve discouraged Christians who wonder if their faith is a disappointment to God, this book will demonstrate that remarkable faith-the kind Jesus marveled about-isn't about achieving or performing. Readers will discover they can exchange their performance-based evaluation of their faith with a fresh, life-giving intimacy with the Jesus who delights in transforming inadequacies into irrepressible affection.
Remarkable Faith by Shawna Letellier: Book Review
This book is such a blessing. What a powerhouse of remarkable stories that include the authors interpretation and retelling. Packed full of so much faith, each one would bring a tear to my eyes.
We all have days with little faith. We are weak and sometimes our faith and belief in the power of God can waver. But this book is full of amazing faith that can help bolster us against anything; stories chosen to depict things we come across in our daily lives.
We get stories for:
Weak Faith
Hopeless Faith
Unworthy Faith
Suffering Faith
Distant Faith
Panicked Faith
Defiant Faith
Flagrant Faith
and so much more.
This book can bring comfort and help heal your faith connection with God. Easy to read and broken into chapters to study and pray through, the author has delivered a true gem. One that can change your focus and relationship with God.
Do yourself a favor and get a copy today. Then gift one to someone who could use some encouragement. Perfect for study groups and personal reading.
Disclaimer: Chris has personally reviewed the product listed above. She has not received any monetary compensation for her review but did receive a free book so she could evaluate and use it for this post. Her thoughts & opinions in this review are unbiased & honest and your opinions may differ.