Fall is officially here so of course it is time to start posting fall orientated recipes! HA. I do love this time of year and pumpkin is one of my favorite flavors although I am not overboard with pumpkin spice everything.
However, including this fruit, that is as healthy as a veggie, by the way, in our meals is a wonderful change of pace. If you are a vegetarian or just enjoy eating healthy, then this recipe is a fabulous way to kick off the fall season. It uses green lentil sheets that are used as lasagna pasta. Perfect for a Meatless Monday! Sounds interesting!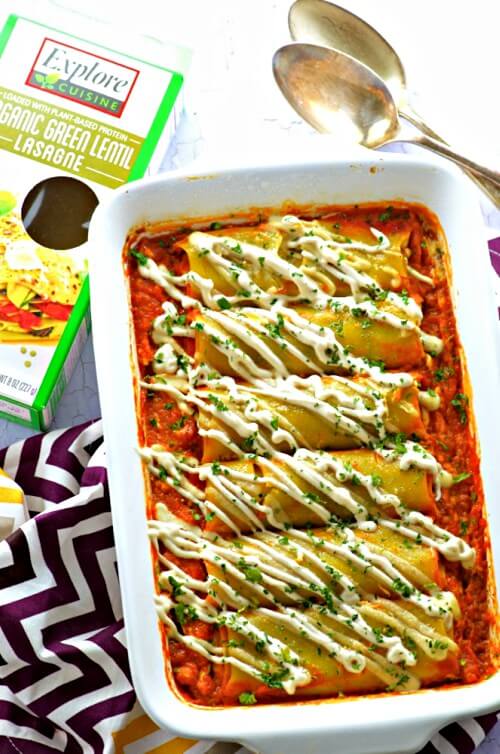 Pumpkin Stuffed Green Lentil Cannelloni Recipe
Recipe by May I Have That Recipe for Explore Cuisine
Prep time: 45 mins
Cook time: 55 mins
Total time: 1 hour 40 mins
Serves: 3-4 servings
INGREDIENTS
For the Cashew Cream:
½ cup raw cashews,
1 cup water boiling water
1 clove garlic
2 tsp nutritional yeast
¼ tsp salt
6 sheets Explore Cuisine Organic Green Lentil Lasagne
2 cups prepared tomato sauce
1 – 2 tsp red pepper flakes (to taste, optional)
For The Filling:
15 oz canned pumpkin
1 teaspoon nutritional yeast
1 tsp onion powder
1 tsp garlic powder
¼ to ½ tsp salt (to taste)
⅛ tsp black pepper
DIRECTIONS
To prepare the cashew cream (this can be prepared ahead of time), soak the cashews in 1 cup of boiling water for 30 minutes. Drain, reserving ½ cup of the soaking water
Combine the soaked cashews, garlic, nutritional yeast, salt and the ½ cup of reserved soaking water in a high power blender. Blend until smooth and creamy. Set aside or refrigerate until ready to use
In a large pot, bring water to a boil and add salt to taste. Add the lasagna sheets and cook for 10 minutes, stirring often to keep them from sticking together
While the pasta cooks, prepare the filling. Combine all the ingredients in a medium bowl and mix well. Set aside until ready to use
Once the pasta sheets are cooked, drain them and run them under cold water (if any of the sheet are stuck together, separate them carefully). Set them aside
Preheat the oven to 375F. Combine the prepared tomato sauce and red pepper flakes (if using) and pour on the bottom of a 10.5 x 7.5 inch baking dish. Spoon about half of the cashew cream over the sauce
To prepare the cannelloni, place about a tablespoon and a half of filling on each pasta sheet and carefully roll each one. Arrange them on the baking dish, over the tomato sauce and cashew cream. Cover tightly with aluminum foil and bake for 45 minutes
Drizzle with the remaining cashew cream before serving. Serve warm
~~~~~~~~~~~~~~~~~~~~~~
I have not tried this recipe yet, so if you do, let me know how it works out! Personally, I would have to add some cheese! But it is a great one for vegans.
*Disclaimer – Thanks to Explore Cuisine for the recipe and image. Used with permission