Because of the change in my diet over the past few years I decided to take a look at and review a brand new book that talks about focusing on plants for your food and nutrition.
While I never wanted to be the vegetarian in the room, several times in my life I have sworn off meat for an extended period of time. I was never very good at sustaining it because I am not one to be adventurous with my food. Plus, I never understood the balance between foods that is needed for a healthy body.
However, with more and more research showing that you can reverse many illnesses and chronic conditions that our bodies are now developing due to poor nutrition, I know it is time to get smarter about my food. With that in mind here are my thoughts on this new guide.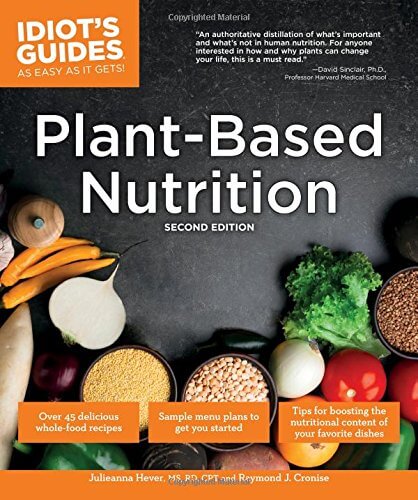 Plant-Based Nutrition 2E by Julieanna Hever M.S., R.D. and Raymond J. Cronise
Series: Idiot's Guides
Publisher: Alpha; 2 edition (January 9, 2018)
ISBN-13: 978-1465470201
Whether you're vegan, vegetarian, or omnivore, getting your nutrition from plant-based foods is one of the best things you can do for your health—and it's easier than you might think!
The science confirms that a diet rich in whole, plant-based foods can help your body thrive. In fact, a growing number of physicians advocate a completely plant-based diet for many of their patients who suffer from diabetes, heart disease, and cancer. In this all new edition, leading plant-based dietician, Julieanna Hever, and Ray Cronise, the mastermind behind magician Penn Jillette's 100-pound weight loss transformation, team up to give you everything you need to know about following a plant-based diet, including:
A wealth of information on the most nutrient-dense foods in the plant kingdom
A new Food Triangle, representing a completely new way of looking at food and nutrition
New perspectives on macronutrients, and why categorizing protein, carbs, and fats as food groups causes unnecessary confusion about what to eat
The latest science on oxidative priority and how it explains why many common recipes drive unintentional weight gain
Healthspan and longevity recommendations based on the latest research
All new recipes from celebrity chefs: Matthew Kenney, Dreena Burton, Jazzy Vegetarian, Kathy Patalsky, Robin Robertson, Fran Costigan, Jason Wyrick, and Matt Frazier
Sample menus to get you started on a plant-based lifestyle
Tips for stocking your kitchen, boosting the nutritional content of your favorite dishes, and dining out healthfully
Review of Plant-Based Nutrition 2E by Julieanna Hever M.S., R.D. and Raymond J. Cronise
When you think about a Idiot's Guide to plant nutrition, most of us probably think about recipes. However, this book was written from an instructional point of view, to teach us what foods can do to reverse negative issues in our body and to become healthier overall.
It is truly a one stop guide to everything you need to know about the choices and the process for eating a plant based diet. Along with the nutritional needs your body requires, the authors lay out everything in a quick, easy to read format.
We need to understand that we can survive without dairy and meats so the authors take us through the nutritional necessities that our bodies require and how to find those nutrients in the food choices we make. They walk us through exactly what to eat and what not to eat and why. They have recreated the Food Pyramid for their own Food Triangle and it makes sense!
My favorite part is the shopping lists and pantry must-have's. This makes the process simpler and easier to institute. Sometimes I have spent hours wandering through a store wondering if this item is okay to eat. Can I have this product or not. It is frustrating and makes an eating change difficult to stick with. I love the chapter about losing weight with plant based eating. It is very informative too!
This guide is packed full of tips and information you need to make the right decisions and food choices. They also address eating out, eating with others, and even fitness tips for plant eating people.
Another favorite is their chapter on Seniors deciding to switch to plant based nutrition. It is smart and full of reasons we should all embrace a healthy change. They also have chapters for teens and children too!
Honestly, they have thought of everything and yes, there are some recipes too!
Whether you want to make the change due to health reasons, or because you want to lose weight, this book is a fabulous tool for a smart food change that will change your mind about eating plant based, focus, and your life.
Disclaimer: Chris has personally reviewed the product listed above. She has not received any monetary compensation for her review but did receive a free ebook so she could evaluate and use it for this post. Her thoughts & opinions in this review are unbiased & honest and your opinions may differ.