I have never been much of a classics reader. Well, except for when I was in school and we had to read something. So when I was asked to review and feature the 50th anniversary edition of this book, I thought I would check out the story and share some thoughts with you too.
Soon to be a television series, this was an interesting story.
Picnic at Hanging Rock By JOAN LINDSAY
Penguin Classics
On-sale: October 3, 2017
ISBN: 9780143132059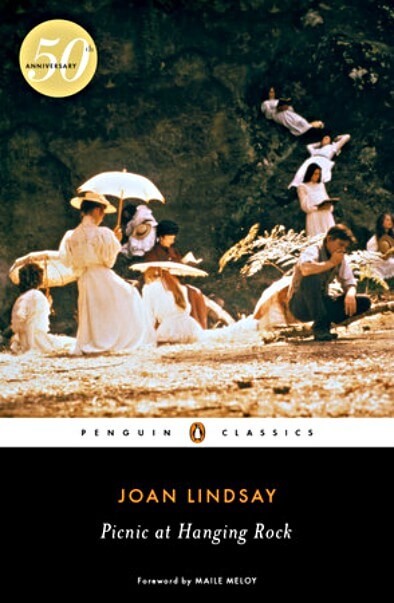 ABOUT PICNIC AT HANGING ROCK
A 50th-anniversary edition of the landmark novel about three "gone girls" that inspired the acclaimed 1975 film and an upcoming TV series starring Natalie Dormer
With a foreword by Maile Meloy, author of Do Not Become Alarmed
On a cloudless summer day in the year 1900, everyone at Appleyard College for Young Ladies agreed it was just right for a picnic at Hanging Rock. After lunch, three girls climbed into the blaze of the afternoon sun, pressing on through the scrub into the shadows of the secluded volcanic outcropping. Farther, higher, until at last they disappeared…. They never returned.
Over the course of four weeks in 1966, Joan Lindsay wrote PICNIC AT HANGING ROCK, a debut literary novel that became a sensation. The intrigue surrounding it propelled it into Australia's national folklore.
This new Penguin Classics edition, featuring a foreword by Maile Meloy, author of the recent bestselling novel Do Not Become Alarmed, about the disappearance of four children on a family vacation, celebrates the 50th anniversary of the novel's first publication.
PICNIC AT HANGING ROCK by Joan Lindsay
Written in the very old style of literary genius, this book was a bit hard for me to get into at first. I am so used to the writing of today that I had to think about each word, which was placed perfectly within the proper structure of the sentences. After a few chapters, I was able to move along a bit more quickly.
I have to say I was not sure what to expect from this book. It started off slowly, with the introduction of the school girls, the staff, and Headmistress at the school. I have to say that I am glad I never had to live in that era. I do not think I would do very well.
As we move through the story, more and more characters are introduced. Bits and pieces of the mystery regarding the missing girls are dropped here and there. Things that many seem inconsequential now may be important later.
Then we learn more about the school girls and the staff. Interesting things start to pop into the story and others start to fall apart. You are not sure what is important and what is not, so you have to read it all.
The author crafted an interesting story that begs you to keep reading because you honestly do not know what will happen along the way. The sign of a great story! And just like many of the literary masterpieces from the past, this one leaves you wondering what was it all really about? What did the ending really mean? What really happened to the missing girls?
Somethings we shall never get the answers to….
Disclaimer: Chris has personally reviewed the product listed above. She has not received any monetary compensation for her review but did receive a free book so she could evaluate and use it for this post. Her thoughts & opinions in this review are unbiased & honest and your opinions may differ.