* Product received for review consideration – Post written by guest reviewer, Ruby along with Chris
I love dogs and I enjoy caring for them. They are so loving, sweet, and funny. Dogs deserve to be well cared for, but it isn't always fun. There are responsibilities that come along with them. They need food, water, a comfy bed, brushing, exercise, vet checkups, and more. The least fun for me is having to pick up their poop.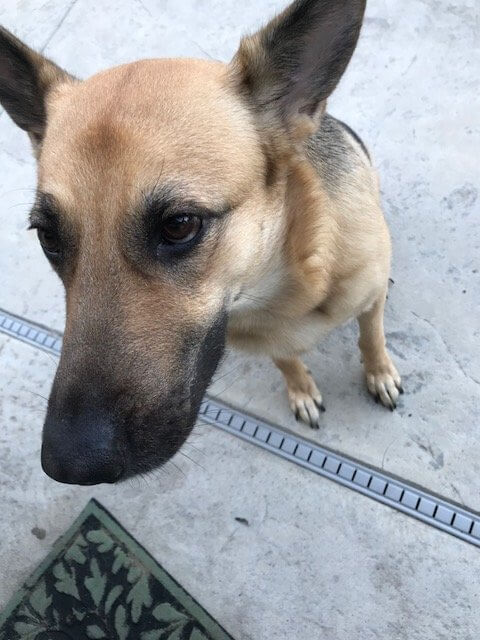 I have a female German Shepherd named Ginger. She is just a cuddler, but she has her moments, like any dog. She loves to run around, being free and wild, enjoying the outdoors. So I take her for walks around the neighborhood so she gets exercise and gets to sniff as well as explore the neighborhood.
Oftentimes, she will relieve herself on someone's yard during the walk. It feels so gross having to pick it up! I use the little doggy bags and I can feel that warm, soft poo as I pick it up. Yuck! I know it's graphic, but it's true.
I use a large dog pooper scooper in my backyard when picking up her poop. But when we are out walking or traveling, carrying a full size scooper is not happening. So I'm so glad to have be able to try out the new travel size, compact Bleu Paw for review!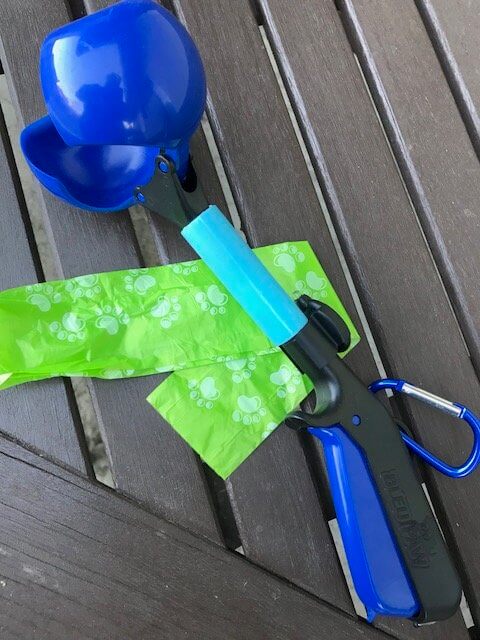 Pet Parents Love the Compact Travel Size Pooper Scooper from Bleu Paw
The Bleu Paw is a compact travel size pooper scooper that is great for taking along for walks, dog park visits, and especially perfect for pet parents that love to travel!
The Bleu Paw is light and short, so it's easy to carry. It's handle is easy to push in, not much pressure is needed, so people of any age won't have any trouble using it. And the carabiner allows it to be attached to a belt or even the dogs harness. Cool.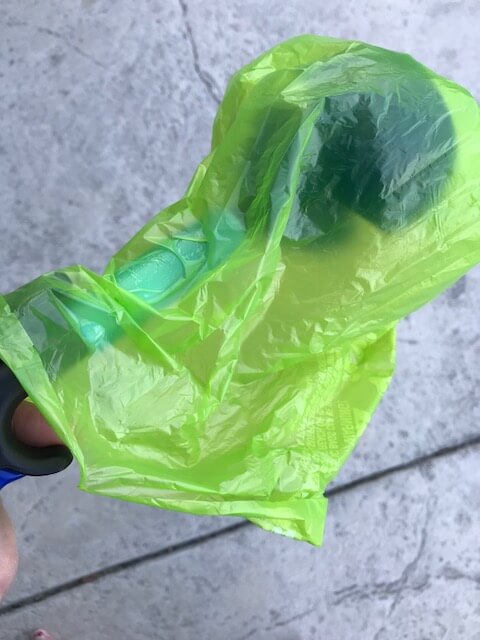 I love the simple and fast way to pick the poop up:
● The bag goes inside-out, over the scoop, with ends attached to the sticky roll
● Pick up the pet deposits
● Remove the edge of the plastic bag from the sticky roll
● The scoop stays clean and so do your hands
The poop is securely held in the bag. It's fantastic! So sanitary, and YAY, no more using my hands! It also includes a light on the handle so you can see what you are doing. Perfect for when I take Ginger for our 11 PM nightly walks!
The only thing that I could see would work better for me is the scoop part could be bigger for one clean swoop. Because I work with large sized dogs who leave bigger…deposits. But I understand it's current size helps with being compact so it can be travel sized.
Regardless, the Bleu Paw gets the job done! For larger dogs, the poop just needs to be piled up on each other, and then it all stays together to be picked up in one scoop and tied up.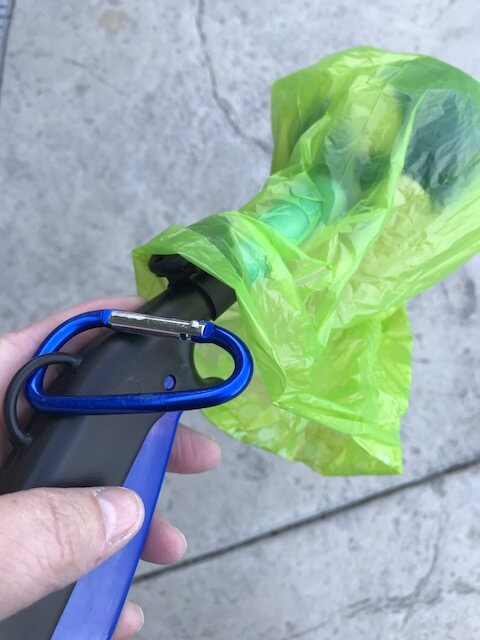 The Bleu Paw is a wonderful product. It has become a part of my daily routine. Whether it's for my own dog, or for the dogs I 'baby-sit' for my friends and family, it's a better alternative to picking up the poop with my hands.
Two paws up! Bleu Paw is what every pet parent needs for easy clean up anywhere they go, at home or on the road.
Grab Your Discount!
To celebrate the introduction of Bleu Paw, grab your coupon code for 25% off of purchase! Use code DEAL at check out at bleupaw.com
Disclaimer: Chris has personally reviewed the product listed above. She has not received any monetary compensation for her review but did receive a free product to try out so she and Ruby could evaluate and use it for this post. Her thoughts & opinions in this review are unbiased & honest and your opinions may differ.