When you are eating low carb, it can get tiresome to fall back on the same recipes day after day. So I try and find new ones to add to my recipe box. I enjoy summer squash and zucchini so this recipe is a perfect one to try. It is quick, easy, and a great side for dinner!
Yes, it uses breadcrumbs, but every low carb dieter is allowed some carbs. Alternatively, you can make your own using low carb or gluten free bread. You can also blend in some Parmesan cheese or almond meal too! All would stand up to the baking and crisping.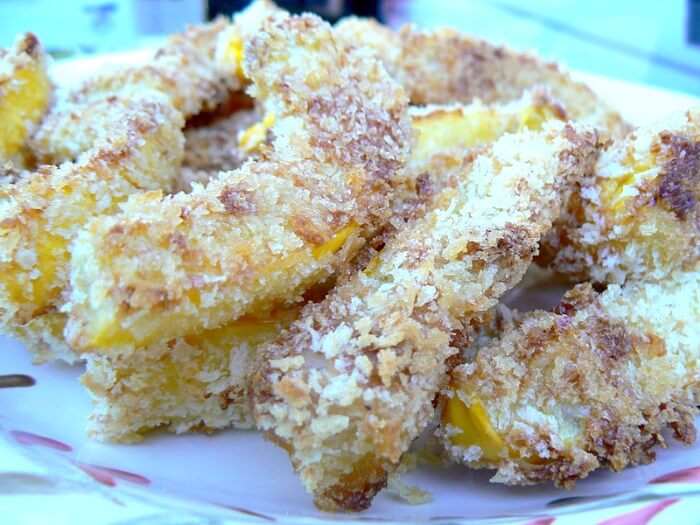 Oven-Baked Summer Squash Fries Recipe
Ingredients:
1 medium summer squash
2 eggs
1 ½ cups breadcrumbs (try panko breadcrumbs for a crunchier texture)
1 teaspoon paprika
1 teaspoon mustard power
Salt and pepper
Olive oil
Directions:
Preheat oven to 400 F. Grease a large baking sheet with olive oil and set aside.
Cut your summer squash into wedges. Remove the seeds if they are quite large and set wedges aside.
Whisk the eggs in a dish and set aside.
In another dish, combine the bread crumbs, paprika, mustard powder and salt and pepper.
Start by dipping the wedges, one by one, into the egg mixture and then the bread crumb mixture. Place each wedge on the greased baking sheet. Continue until all the wedges are done.
You can bake the wedges as is for about 30-40 (until soft inside and golden brown on the outside) as is, but if you want a more golden texture, drizzle or spray some olive oil on top of the wedges. Flip half way through baking.
Serve with ranch or another favorite dip.
Note: A summer squash has a strong resemblance, in flavor and texture, to a zucchini. You can, in fact, substitute zucchini in this recipe, but it will probably bake a bit more quickly.
Try this tasty dish for a low carb treat!