With any eating change there comes a big adjustment on the foods that you typically consume. Before I went low carb, I just ate whatever I wanted really, without much thoughts. Now that hubby and I are eating low carb, we have to plan each meal and low carb snack. No more running through the drive thru or grabbing something to stuff in our mouth when we feel hungry.
Planning for a snack when you are on the go can be tough. There are days that I work up to 8 hours away from home without the availability of lunch break so I have to be able to pack foods that do not spoil and can be thrown in my purse. SO I have come up with some staple items that I keep on hand for this purpose.
Here are some of my staples: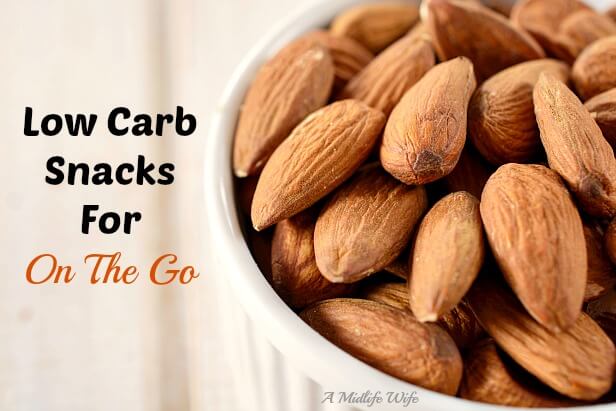 Low Carb Snacks For On The Go
Protein Bars: I look for the ones that have low sugar and high protein. I like the taste of the PureProtein ones that you can find at Walmart and CostCo. The Quest Bars are good too. Make sure to read the ingredients and choose the lowest carb count and highest in fiber.
Nuts: Particularly Almonds and Walnuts are on my list, but I also enjoy regular party peanuts too. The almonds and walnuts are great for your health and fill me up. Watch how many you eat of these, however. They have a lot of calories. I usually eat between 10-20 at the most.
Cheese Sticks: If I am not going to be out long, cheese sticks or cubes that I cut come in very handy. Cheddar's are more low carb than mozzarella so I choose those on a regular basis.
Jerky: Beef Jerky or any of the Turkey Jerky, etc., are great choices as long as they are all natural jerky without added chemicals and low in flavorings and preservatives.
Hard Boiled Eggs – Again, if I am not out long or I can bring a small lunch tote with an ice pack, these make for a filling snack.
Protein Shakes – Look for bottled protein shakes with low carbs and throw a few in the fridge for on the go. There are some from GNC brand that are low carb and very tasty too.
Veggie Sticks – I love veggies sticks and often snack on them with a bit of cream cheese. But for on the go, you can add some peanut butter in a small container and get filled up fast!
These are my top staple items for on the go. Whether I am traveling or just running around town, or even working along day out, I always keeps some types of snacks in my bag. It reduces the cheat factor and just makes me feel so much better about being in control of my food.
What are your favorite low carb snacks that you rely on? Share some below.