Harper Sloan is a well known author in the contemporary romance genre. I have read and reviewed several of her books and have loved each and every one! They are always so memorable and special. So when I have the ability to review a new release by her, you can bet I signed up for the pleasure!
And pure pleasure is exactly what this book brings. Check out my thoughts on this touching, emotional read that had me grabbing for the tissues a few times!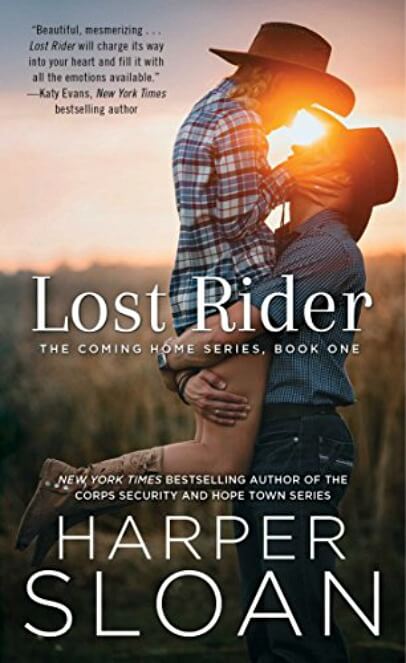 Lost Rider by Harper Sloan
Series: The Coming Home Series (Book 1)
Publisher: Pocket Books (April 25, 2017)
ISBN-13: 978-1501155192
Maverick Austin Davis is forced to return home after a ten-year career as a rodeo star. After one too many head injuries, he's off the circuit and in the horse farming business, something he's never taken much of a shine to, but now that it's his late father's legacy, familial duty calls. How will Maverick find his way after the only dream he ever had for himself is over?
Enter Leighton Elizabeth James, an ugly duckling turned beauty from Maverick's childhood—his younger sister's best friend, to be exact, and someone whose heart he stomped all over when she confessed her crush to him ten years back. Now Leighton is back in Maverick's life, no longer the insecure, love-stricken teen—and Maverick can't help but take notice. Sparks fly between them, but will Leighton be able to open her heart to the one man who broke it all those years ago?
Written in the vein of Diana Palmer and Lindsay McKenna, this Texas-set series is filled with sizzle, heart, and plenty of cowboys!
Review of Lost Rider by Harper Sloan
It's always hard to describe your feelings when you complete a fabulous book. Your emotions are running high, and if it's anything like this book by Harper Sloan, you probably have a few tears going on as well.
Lost Rider gave me the major feels from start to finish. The deep emotional writing and the attention to in-depth detailed description created a masterpiece in contemporary romance. And I don't say that flippantly.
I read a lot of Romance novels and you can tell when an author has crafted something so special that you want to immediately read it again. And again. With the highs and the lows, the smiles and the tears, you never want to see it end.
But then again you do want to reach the ending because you know there are others in the series that are waiting to be written. You can only hope they will be as good as this one was for me.
Harper Sloan has brought us a deeply touching heart-wrenching book that will be one you will pick up time and again. This story will never get old!
Here's to hoping that the next installment come sooner than later. I know it will be worth waiting for.
Disclaimer: Chris has personally reviewed the product listed above. She has not received any monetary compensation for her review but did receive a free ebook so she could evaluate and use it for this post. Her thoughts & opinions in this review are unbiased & honest and your opinions may differ.