If you are one that enjoys chick lit and contemporary women's fiction you're going to really enjoy this upcoming new release. Keep Me Posted is a story about getting back in touch the family and it reminded me I need to do the same. Here are my thoughts on this new release I was asked to review.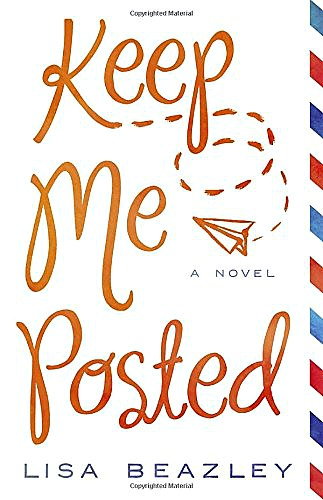 KEEP ME POSTED by Lisa Beazley
Publisher: NAL (April 5, 2016)
ISBN-13: 978-1101989869
Two sisters share the surprising highs and cringe-worthy lows of social media fame, when their most private thoughts become incredibly public in this fresh and funny debut novel.
Sisters Cassie and Sid Sunday have not done a bang-up job of keeping in touch. In their defense, it hasn't been easy: life veered in sharply different directions for the once-close sisters. Today, beautiful and big-hearted Sid lives an expat's life of leisure in far-off Singapore, while harried, iPhone-clutching Cassie can't seem to make it work as a wife and a mom to twin toddlers in Manhattan.
It doesn't help that Sid spurns all social media while Cassie is addicted to Facebook. So when Sid issues a challenge to reconnect the old-fashioned way—through real, handwritten letters—Cassie figures, why not?
The experiment exceeds both of their expectations, and the letters become a kind of mutual confessional that have real and soul-satisfying effects. And they just might have the power to help Cassie save her marriage, and give Sid the strength to get her life back on track.
But first, one of Cassie's infamous lapses in judgment comes back to bite her, and all of the letters wind up the one place you'd never, ever want to see them: the Internet…
My Thoughts on Keep Me Posted by Lisa Beazley
As someone who is very private, I had hard time with some of the content in this book. I am not one to share things publicly and the fact that this dealt with very private and confidential information that became public was hard for me to read.
I did love the concept; sisters decided to stay in contact via writing each other snail mail. I, too, have a sister from whom I have lived a minimum of two thousand miles away, if not further, for most of my life. Most of our conversations are via text or once in awhile we will pick up the phone. So the concept of reaching out, including your thoughts and feelings, into mail is a great one.
Every woman struggles with feelings of insecurity and being able to reach out to your sister and just have that tight connection is very empowering and supportive. Something that we all wish for and the author did a great job in creating and building these two sisters with love and forgiveness that is full of hope for family.
I had a tough time getting through the beginning in the middle of this, like I said, due to the Privacy issue, but the ending really made a difference for me and how I looked at this book as a whole. I think the author also did a great job in changing the way I view family and maybe that I need to lighten up and embrace let go some stuff and share more!
This story is light-hearted and humorous in many spots and also very reflective of a woman's marriage and the things that we go through on a regular basis. I think the author did a great job getting in touch with a woman's feelings and things that we go through. Worth the read!
Disclaimer: Chris has personally reviewed the product listed above. She has not received any monetary compensation for her review but did receive a free product to try out so she could evaluate and use it for this post. Her thoughts & opinions in this review are unbiased & honest and your opinions may differ.