I'm really excited to be able to share this new book release with you. It has been a while since I have done a cookbook review but this one called my name. If you've been following me and A Midlife Wife for a while then you know I am a Juicing Junkie. Check out this new release – Juice Guru by Steve and Julie Prussack.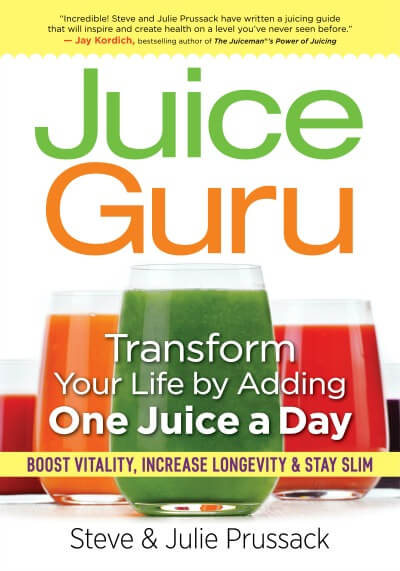 Juice Guru: Transform Your Life with One Juice a Day, Steve Prussack & Julie Prussack
Pub Date: Mar 2016
Publisher: Robert Rose
ISBN 978-0-7788-0529-8
Synopsis:
When you're looking to transform your lifestyle, there's no better place to start than with juicing.
Just one well-timed fresh juice a day can and will change your life. A daily juice provides boundless energy, youthful vibrancy, a slimmer figure, sharper focus and improved health, and prompts a desire to make healthier food choices in general. Juicing isn't difficult — anyone can do it — and the results are almost immediate.
By following the straightforward guidelines in this book, you will take a huge step toward transforming your health without having to change who you are or how you spend your time. Moreover, you'll learn how to apply the science of habit creation so that juicing becomes an enjoyable practice you adopt for life rather than a short-term experiment.
This book demystifies juicing and will help you incorporate this regimen into your daily lifestyle. In addition to the 21-day plan that will get you going on your path to lifelong health and wellness, 100 flavorful fruit and vegetable juices are featured, all bursting with nutrients that will give you the energy to get through your day, whether at home, at work or at play.
My Thoughts on Juice Guru by Steve and Julie Prussack
This book is a wonderful addition to your kitchen and healthy choices. If you are thinking about making a lifestyle change and adding juice to your diet this is one to definitely check out. What's great about this book is that it goes into all of the benefits the juicing can do for you. The truth about fruit, sugars and fiber in your juice. It also looks at why juices and smoothies are different. And if you've ever wondered about juicing and supplements guess what? It's handled in here as well.
The great thing about this is that it walks you through a 21-day plan of action where you make daily juice a habit for you. That's really neat to have as it is a little difficult to get in the habit. I love the section about the cleaning out your kitchen and knowing exactly what you need to make juicing a success for you. There's a ton of recipes in here for you to use and they even look at juices kids love. If you're looking for cleansing or superfood tonics or elixirs, or maybe you just looking for greens or fruit and veggie juices, this book has it all.
I tried several of the recipes in here. There's a load of them that are very easy to use and whip up without a whole lot of ingredients. Here is a blend from their recipes collection in this book. The Apple Lemon and Kale Juice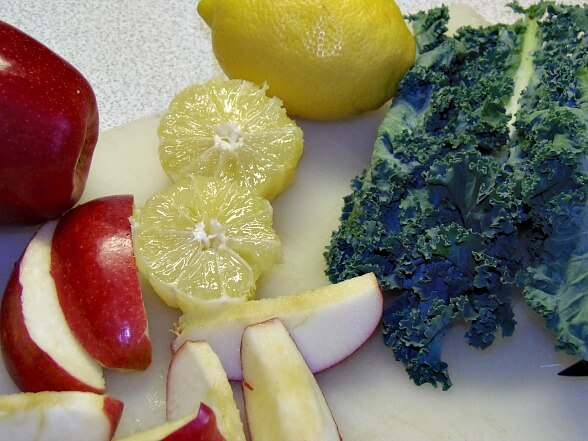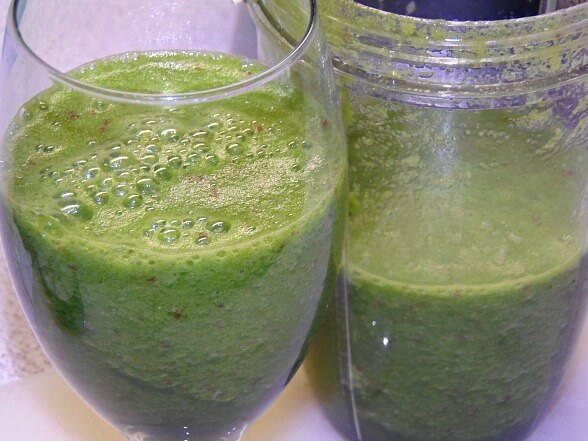 This Book is super handy to use and perfect for a beginner, intermediate, or even an advanced juicer. There's plenty of tips and information that you can incorporate into your life and help you make healthy lifestyle change and improve your health overall.
I've been juicing for over a year and I love the way it makes me feel and I truly miss it when I skip a few days.
If you want to start juicing this is an excellent book to pick up or you can enter to win one below. The Juice Guru by Steve and Julie Prussack is definitely a complete book with everything you need to know.
Enter the Giveaway
One lucky winner is going to receive a copy of this book to try! Here is how to enter!
Giveaway Details: This giveaway is open to US & Canadian Residents age 18 or over. You must complete the Mandatory Entry to be eligible. Follow the directions in the Giveaway Tool below. This giveaway will close on May 8, 2016 at 11:59pm EST Time.

Disclaimer:The Robert Rose brand provided me with a sample of this product in exchange for a product review. However all the opinions expressed here are my own. My thoughts & opinions in this review are unbiased & honest and your opinions may differ.