* product received for review purposes.
There's so many reasons that we can miss a workout and cannot find time to get to the gym. Appointments; kid duty; work; just day-to-day living life. Every one of us has a reason, or excuse!
So I love it when I can find it easy to use workouts that help you reach your fitness goals in little snippets of time that you can work into your day.
I was introduced to a fitness trainer by the name of Jari Love who has created a streaming video and DVD set that gives you the ability to get ripped in six minute increments. This awesome workout is perfect for anyone. Any fitness level can do the workouts that is included in this program.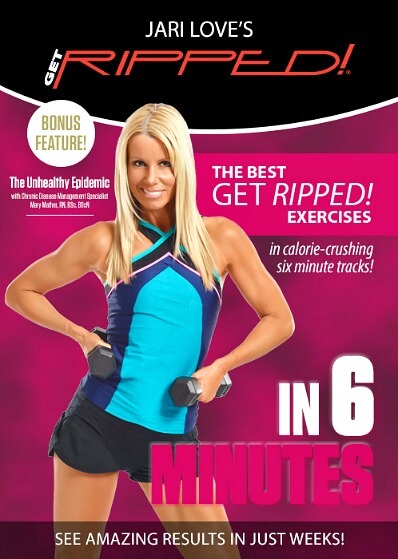 GET RIPPED! IN 6 MINUTES?
Join Jari Love, creator of the critically acclaimed Get RIPPED! Series, for an innovative new workout that will burn fat, help you lose weight and sculpt lean muscle.
Each six-minute track features back-to-back double-duty calorie burning exercises with active recovery, so that your heart rate stays elevated and you shed fat fast! All exercises scientifically tested on a metabolic cart.
You can choose to do this same workout in different ways – 1 full hour or break it up into three – 20 mins or two – 30 mins workouts depending on your schedule each day.
Disc one INCLUDES:
1-60 min workout
BONUS Feature– "The Unhealthy Epidemic" with Chronic Disease Management Specialist Mary Mather, RN, BSc, BScN
BONUS Feature -Chapters – exercises broken into sections so that you can pick and choose
DVD two – INCLUDES:
2-30 min workout
3-20 min workout
With easy to follow patterns and modifiable moves, you can achieve your best body ever and have fun while doing it. A set of light and medium hand weights (3-8bs), a step (optional), and a mat is required for this workout.
Get Ripped in 6 Minutes with Jari Love
I checked out the streaming video and not only is the music on point, Jari is a great personality that leads you through each exercise with patience and complete explanation.
Much of the work out in this program is done with light hand weights and a step bench. While it sounds simple, it is a killer workout for sure. I understand the getting ripped part now. LOL
Jari Love manages to work every portion of your body using simple yet killer workouts. Each exercise is done in six minute portions so you can really fit them into your schedule easily. I love it!
She offers many different DVDs and programs on the website. Stop by and check them out for a low impact, yet complete body workout, perfect for any age or fitness level.
Disclaimer: Chris has personally reviewed the product listed above. She has not received any monetary compensation for her review but did receive free access to the live stream so she could evaluate and use it for this post. Her thoughts & opinions in this review are unbiased & honest and your opinions may differ.