A few weeks ago I introduced you to a new fitness DVD I reviewed from Jari Love. Her Get Ripped! series is expanding and I shared with you her Get Ripped in 6 Minutes DVD and streaming download.
Today I want to share with you her newest workout that I reviewed where she helps you get ripped quickly with her Express total body workout!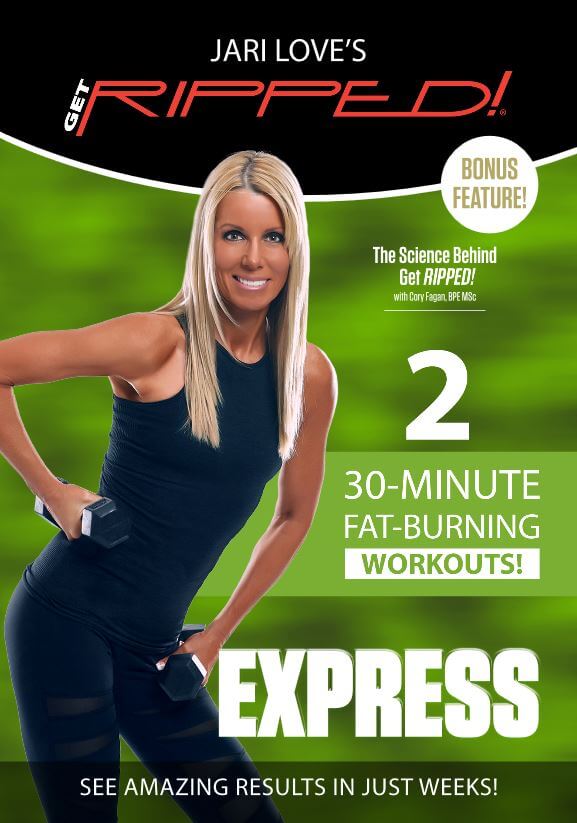 Get Ripped Express with Jari Love
DVD or Streaming download
Get Ripped! Express is a total body workout that will blast fat, rev up your heart rate, and redefine your body. Featuring a selection of Jari's signature compound exercises and fresh new combinations, Get RIPPED! Express offers the ultimate weight-training experience.
Choose from two thirty-minute fat burning workouts or maximize results with the sixty minute complete Get RIPPED! Express program.
My Thoughts on Get Ripped Express with Jari Love DVD
What I enjoy about Jari's workouts is that they are relatively easy to do. She doesn't have you do overly complicated moves. She uses the basics of weight resistance in smart ways to help you burn fat and calories quickly while developing beautiful muscles and strength.
One of the things I also love is her music. Time seems to fly while you workout. Plus, Jari is very positive and you find yourself working your muscles very hard without even realizing it. Well, until they start screaming. LOL.
This workout includes simple hand weights, a mat, a step bench (optional), and your own bodyweight to do her work out. The Get Ripped! Express is set in two 30 minutes segments, which is perfect for me. Or you can do the entire one hour workout in one shot.
Jari takes the time to explain the movements and what muscle it's working on so you understand how that movement will help your body. Plus, the cool downs are wonderful and very relaxing too.
I really enjoy doing her workouts. And I think that you would enjoy them too. They are perfect for any age and fitness level.
Guess What? We are going to be giving away two of her DVDs to one lucky winner!! Check this out!
Enter the Giveaway
One lucky winner will receive a copy of Get Ripped! Express and Get Ripped! in 6 Minutes with Jari Love DVD's. Here is how to enter!
Giveaway Details: This giveaway is open to US Residents age 18 or over. You must complete the Mandatory Entry to be eligible. Follow the directions in the Giveaway Tool below. This giveaway will close on April 2, 2017 at 11:59pm PST Time.
Disclaimer:The Jari Love brand provided me with download access for purpose of review. The thoughts expressed here are my own and you may not agree. Sponsor is responsible for prize shipment