It is a always a pleasure to read a book by Debbie Macomber. When I was asked to review this new release, I did not realize that we would meet people from her last book, A Girl's Guide to Moving On. I was thrilled to find some updates with those characters!
This new story is one you can so relate to! Finding your way in life can be tricky. But it can be beautiful too as we learn by diving into this wonderful story! Here are my thoughts.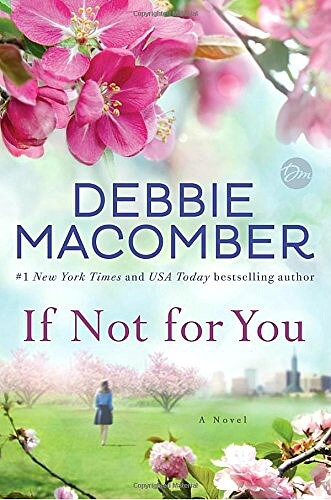 If Not For You by Debbie Macomber
Hardcover, audio, kindle, paperback
Publisher: Ballantine Books (March 21, 2017)
ISBN-13: 978-0553391961
Synopsis:
If not for her loving but controlling parents, Beth Prudhomme might never have taken charge of her life and moved from her native Chicago to Portland, Oregon, where she's reconnected with her spirited Aunt Sunshine and found a job as a high school music teacher. If not for her friend Nichole, Beth would never have met Sam Carney, although first impressions have left Beth with serious doubts.
Sam is everything Beth is not—and her parents' worst nightmare: a tattooed auto mechanic who's rough around the edges. Reserved and smart as a whip, Beth isn't exactly Sam's usual beer-drinking, pool-playing type of woman, either.
But if not for an awkward setup one evening, Beth might never have left early and been involved in a car crash. And if not for Sam—who witnessed the terrifying ordeal, rushed to her aid, and stayed with her until help arrived—Beth might have been all alone, or worse. Yet as events play out, Sam feels compelled to check on Beth almost daily at the hospital—even bringing his guitar to play songs to lift her spirits. Soon their unlikely friendship evolves into an intense attraction that surprises them both.
Before long, Beth's strong-willed mother, Ellie, blows into town spouting harsh opinions, especially about Sam, and reopening old wounds with Sunshine. When shocking secrets from Sam's past are revealed, Beth struggles to reconcile her feelings. But when Beth goes a step too far, she risks losing the man and the life she's come to love.
Review of If Not For You by Debbie Macomber
There is nothing more fun than to read a story and get this feeling that you know the characters. You connect with them on more than one level. You realize that you have read about some of them before. That little touch of awareness creeps up.
Then it dawns on you. Some of these people we met in the author's last book! And everything just blends together.
But that does not mean that you have to read the first book in order to enjoy this one. Not at all. This great story is a standalone. But it is enhanced by knowing the other characters.
Learning to deal with life is tough and Beth is doing it the hard way. By moving across country to stand on her own, she finds that it can be down right difficult too! But with a good friend and her Aunt by her side, she is figuring it all out. Until an accident almost derails her plans and an unexpected man becomes an important fixture in her life.
If Not For You by Debbie Macomber is a delightful story about an unsuspecting love that can sneak up on us when least expected. Written with the same flair and flavor in her touching style we have come to love, this story is one that is full of innocent love with a few mistakes to learn from too.
A touching and clean romance that speaks to sweet love, good friends, and living life as it should be. Includes a feel good ending that makes it all worth while as we learn opposites do attract, even in matters of the heart.
Disclaimer: Chris has personally reviewed the product listed above. She has not received any monetary compensation for her review but did receive a free ebook so she could evaluate and use it for this post. Her thoughts & opinions in this review are unbiased & honest and your opinions may differ.