Ohh, I love a good thriller with plenty of creep factor and suspense and this new release hits the target! This is the first book I have read by Clare Mackintosh but not the last! Her other book, I Let You Go, has gotten rave reviews, and this one is well on it's way too!
Check out my review and thoughts on I See You by Clare Mackintosh, now available in Kindle edition!
I See You by Clare Mackintosh
Publisher: Berkley
Publication Date: February 21, 2017
Sold by: Penguin Group (USA) LLC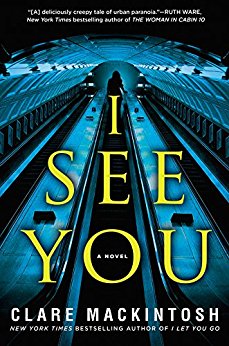 Synopsis:
Every morning and evening, Zoe Walker takes the same route to the train station, waits at a certain place on the platform, finds her favorite spot in the car, never suspecting that someone is watching her…
It all starts with a classified ad. During her commute home one night, while glancing through her local paper, Zoe sees her own face staring back at her; a grainy photo along with a phone number and a listing for a website called FindTheOne.com.
Other women begin appearing in the same ad, a different one every day, and Zoe realizes they've become the victims of increasingly violent crimes—including murder. With the help of a determined cop, she uncovers the ad's twisted purpose…A discovery that turns her paranoia into full-blown panic. Zoe is sure that someone close to her has set her up as the next target.
And now that man on the train—the one smiling at Zoe from across the car—could be more than just a friendly stranger. He could be someone who has deliberately chosen her and is ready to make his next move…
Book Review of I See You by Clare Mackintosh
Sometimes you read a book and you decide that going outside is not worth it any more. The paranoia of who is watching you. The tickle in the back of your neck. That creepy feeling you get when something is just not right. All of those factors head the list with this read!
This book brings the goods and includes some police drama and action too! The author is very well versed in that arena as she is a past officer.
I See You is completely Engrossing! I loved every page and simply could not stop reading. Thankfully, I had a half a day set aside to devour this novel and that I did. With rich description and plenty of twists, this story kept me on my toes. I thought I had it figured out, but I loved that I was wrong! A stunning turn of events at the end that I certainly did not expect!
I love police drama, a bit of mystery, and suspenseful thrillers and this book hit all of my favorites. This author is definitely one to keep on your radar!
Disclaimer: Chris has personally reviewed the product listed above. She has not received any monetary compensation for her review but did receive a free ebook so she could evaluate and use it for this post. Her thoughts & opinions in this review are unbiased & honest and your opinions may differ.