You can tell a great thriller when you don't have any idea what direction the author is going. I was able to review this release today and the ending took me by surprise. Several days later, I am still thinking… What the heck??
Here's my thoughts on this psychological thriller that will sneak up you a few days later!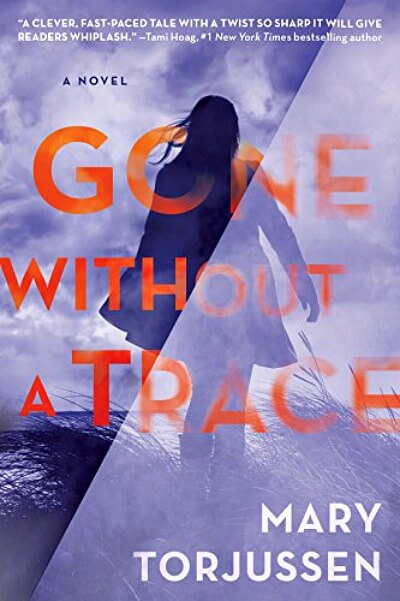 Gone Without a Trace by Mary Torjussen
Publisher: Berkley (April 18, 2017)
ISBN-13: 978-0399585012
A jaw-dropping novel of psychological suspense that asks, If the love of your life disappeared without a trace, how far would you go to find out why?
Hannah Monroe's boyfriend, Matt, is gone. His belongings have disappeared from their house. Every call she ever made to him, every text she ever sent, every photo of him and any sign of him on social media have vanished. It's as though their last four years together never happened.
As Hannah struggles to get through the next few days, with humiliation and recriminations whirring through her head, she knows that she'll do whatever it takes to find him again and get answers. But as soon as her search starts, she realizes she is being led into a maze of madness and obsession. Step by suspenseful step, Hannah discovers her only way out is to come face to face with the shocking truth…
Review of Gone Without a Trace by Mary Torjussen
I am usually not one to read psychological mind-numbing books but over the last few months I've been able to read many of them. This latest book by Mary Torjussen truly had me wondering what to expect.
Imagine how you would feel if your live-in boyfriend just disappeared one day. All traces removed. Not being able to understand what was going on. Creepy!
Then you add into that weird things start happening at work, weird phone calls and texts. Maybe you really are losing it.
That's exactly the feeling that you get as you dive deeper into the story. While on the surface this story can seem a little bland and boring since Hannah will just not give up. She's hunting and searching for him, desperate to find any trace of a clue.
But then the twists start showing up and you're left wondering what in the heck just happened. That is a sign of a great story. And the author certainly took us right down the garden path and left us hanging, just a little bit.
Mary Torjussen brings us an engrossing read that is full of hints and secrets that are right there but you just cannot put a finger on. This is one that I couldn't stop reading.
If you love psychological thrillers, this is one that you will want to check out.
Disclaimer: Chris has personally reviewed the product listed above. She has not received any monetary compensation for her review but did receive a free ebook so she could evaluate and use it for this post. Her thoughts & opinions in this review are unbiased & honest and your opinions may differ.