One of the hardest things to get used to when you start a low-carb or keto style eating plan is changing the way you cook.
What used to be our go-to meals that may have included pasta, potatoes, rice, and other starchy items now have to be reworked. We have to start thinking of meals that are simpler in ingredients but quick to prepare or eat on the go.
Now that it's just my husband and I for the most part, I find myself cooking less and less. I tend to look for for very easy but wholesome foods to eat and prepare.
The other day I just did not feel very hungry but I knew I had to eat something. I love eggs and we get them fresh from the farm. So I go to for us for breakfast lunch or dinner or some form of eggs.
So looking in the fridge I had leftover ham from Easter, Monterey Jack cheese, and my eggs. These would make a perfect omelette, however I am not a perfect omelette maker. My husband is. But it was not his night to cook. Sigh.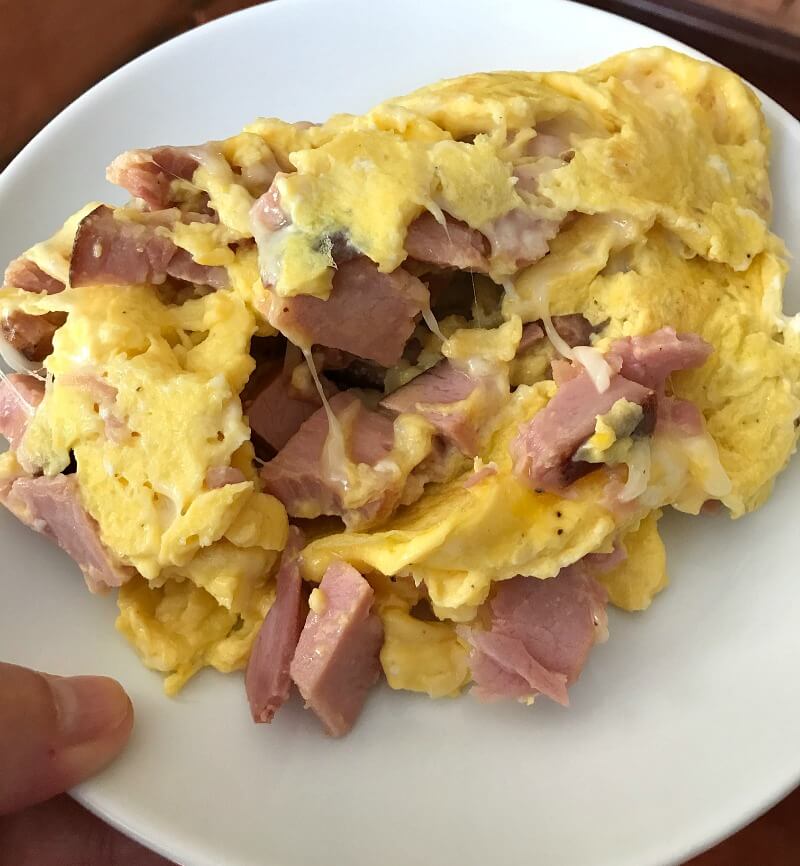 Easy Cheesy Low Carb Scrambled Egg Recipe
So I whipped together three eggs with some salt and pepper and threw them in a small non-stick skillet. I have a 6 or 7 inch non-stick skillet that is perfect for eggs that I got at the .
These I slow scramble over low heat so they stay nice and fluffy. About three quarters of the way done I add in the ham and the cheese so they can warm through to get nice and melted gooey. Slide it on a plate and you're ready to eat.
Ingredients to Add
I did have some spinach in my fridge that I meant to throw in this. But I forgot. Which is not uncommon. But it would be a great addition as would some sliced tomato or avocado.
This could be something you can make in the morning for breakfast. Then wrap some in a low-carb tortilla for a breakfast burrito to take to work for lunch. Fast, healthy, and simple, yet it will keep you out of the drive through!
Eating low-carb doesn't have to be fancy. Good healthy nutritious food is what you need to focus on instead of getting an entire meal out. At least in my perspective today.
What do you think?