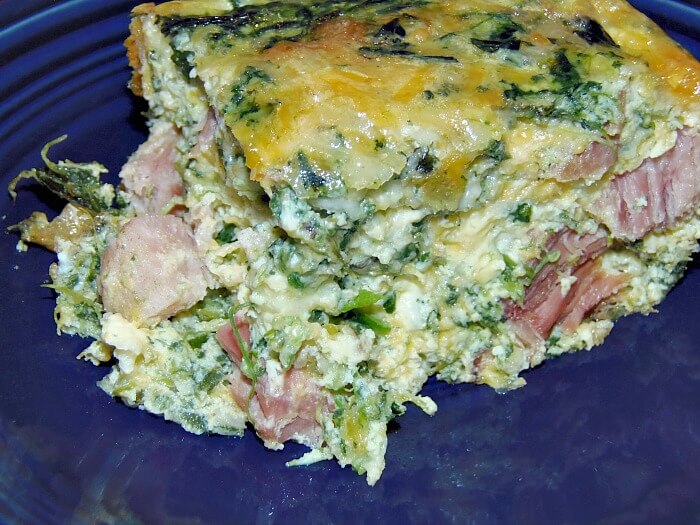 I have a confession. I love eggs. I can eat them for breakfast, lunch or dinner and I love to make dishes that use eggs for several reasons.
1) – They are a healthy way to add protein to your diet.
2) – They are inexpensive and can really stretch a budget and
3) – They are easy to use in a meal
The other day, my hubby whipped up the delicious crustless quiche that is perfect for anyone on a low carb / high protein diet. Plus it is just plain delicious for anyone to enjoy. The whole family will love it.
And here is another secret…. It is not hard to make a quiche, For some reason, there is a stigma that making recipes for quiche is difficult. It is not! Why not give this a try?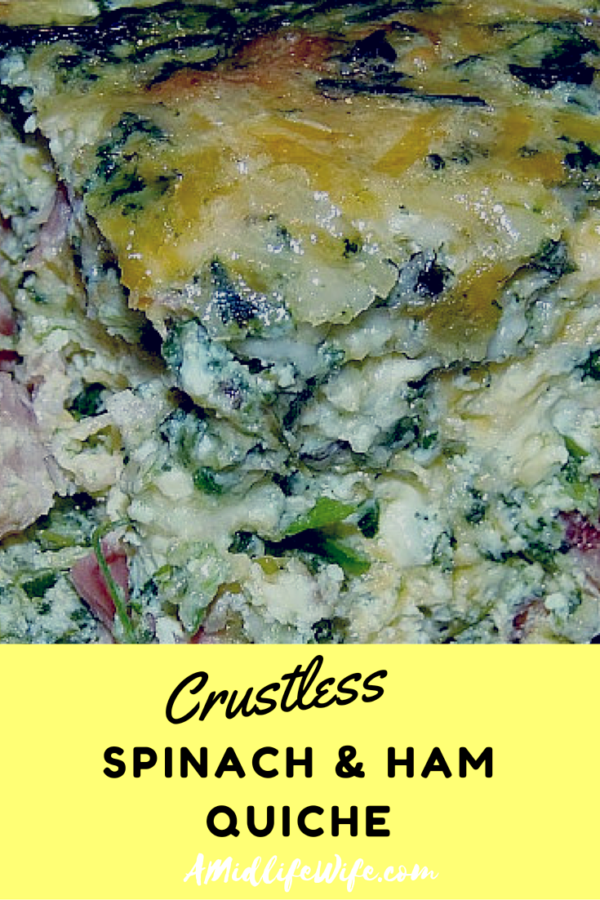 Crustless Spinach and Ham Quiche Recipe
Ingredients:
6 Eggs – beaten
2 cups cubed ham
1 Package frozen Spinach 10 oz.
1/2 Onion – finely chopped
1 tsp crushed Garlic
2 tsp Butter
1.5 cups Shredded Cheddar
3/4 Cup Shredded Parmesan
Salt and Pepper to taste
Directions:
In a small saute pan melt the butter and add the onion and garlic until softened, stirring frequently. Add the diced ham to the mixture to slowly warm through
Defrost the spinach and squeeze dry. In a 8×8 baking dish, add the eggs, spinach, ham mixture, and cheese along with a dash of salt and some pepper. Mix together well.
Bake in the oven at 350 for 45 min to 60 minutes or until the center is set. Sprinkle with additional cheese once removed from the oven, if desired.
That's it! A fool proof and delicious quiche you can enjoy anytime. If you do want to use a crust, use a deep pie plate and a refrigerated crust. Bake the same amount of time.
Enjoy!