There's something about opening a brand new book and just knowing that it's going to be a great story. Cowboy Up is a third in the series and while you don't have to read the other two, it would definitely enhance this amazing read.
Being able to review and give my opinions on books like this is the best job in the world. I love anything Harper Sloan and here are my thoughts on this new release.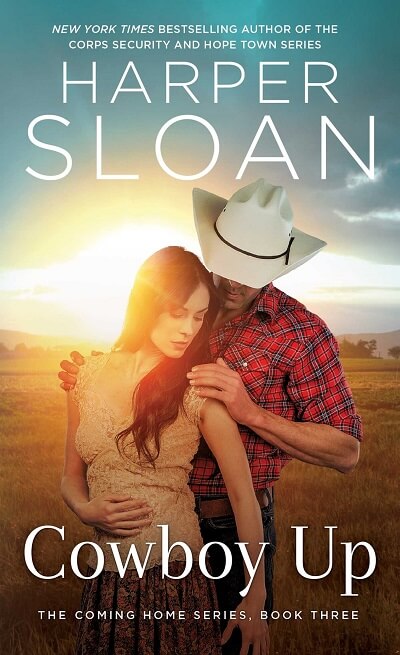 COWBOY UP by Harper Sloan
The Coming Home Series Volume 3
Pocket Books
December 19, 2017
ISBN 9781501155277
As the eldest Davis, Clayton has always tried to lead by example. He takes his job as head of the family businesses seriously, making sure the farm and auto shop are running smoothly—along with keeping an eye on his brother and sister. For him, there's a time and place to let go of the control he holds with an iron grip. And with the way he grew up, coupled with disastrous end to his last relationship, he's just fine with his quiet, solitary life.
Most of the time.
What he hadn't counted on was cute, quirky, shy bookstore owner, Caroline Michaels. She's the proverbial woman next door—well, the next town over, that is. Caroline hasn't lived an easy life, but after escaping an abusive ex, she's finally living it for herself. The last thing she ever expected was a one-night stand with Clay Davis, a night she can't stop thinking about.
So when she falls on hard times and Clay comes out of nowhere to her rescue, she realizes just how impossible it'll be to stay away from him. Now all she has to do is convince him to live a little…
Will Clay be able to give up the reins and finally settle down? And, more importantly, will Caroline muster enough courage to lasso him up?
COWBOY UP is the third go-round in this Texas-set series which has everything readers could want in truly authentic Western romance novels filled with sizzle, heart…and plenty of horses and cowboy boots!
COWBOY UP by Harper Sloan Review
I have to say I couldn't wait for this book to come out. We met Clayton in the previous books and I couldn't wait to see how the author would develop his character.
Strong, a parental figure, quiet, hurting, often grouchy in the other stories, in this book he became an amazing guy. Tender, loving, loaded with sex appeal, full of heart and emotion just waiting to give it all away. You just want to take him home for yourself. Plus, he is Hella hot! Yumm
Guys like Clayton are the reason women get addicted to romance novels. They represent everything a woman looks for in a man and a wonderful relationship. The author crafted the perfect complement for Clayton in Caroline. This book is full of sparks and even a few surprises along the way.
Packed full of magic between the pages, I know you will also become addicted to the writing of Harper Sloan, just like I did.
Enter the Come 'N Get It Giveaway:
For the third and last in The Coming Home Series, COWBOY UP, we're getting' down with one great giveaway! The Come 'N Get It Giveaway will be one set of the entire Coming Home Series (Lost Rider, Kiss My Boots, and Cowboy Up). You can enter to win at any participating blog, but you can only win once. U.S. only, please.
Giveaway Details: This giveaway is open to US Residents age 18 or over. You must complete the Mandatory Entry to be eligible. Follow the directions in the Giveaway Tool below. This giveaway will close on Jan 04, 2018 at 11:59pm PST Time.
Disclaimer:
Chris received a complimentary ebook for review purposes. Prize provided by the Sponsor. Please read our Official Rules before entering this giveaway. We must receive all entries by the end date of the contest and the odds of winning are determined by the number of entries received. No purchase necessary to enter. A Midlife Wife is not responsible for prize fulfillment.