I have been a big fan of Alice Clayton's writing since the beginning. To me, her stories are flawless and fun and just make me smile. And when a new release shows up in the mail for me to review, I have to find a way to read it immediately.
Buns is the third in a series of Hudson Valley gang and is a delightful story. Here are my thoughts:
Buns by Alice Clayton
Series: The Hudson Valley
Gallery Books
ISBN 9781501118173
May 2017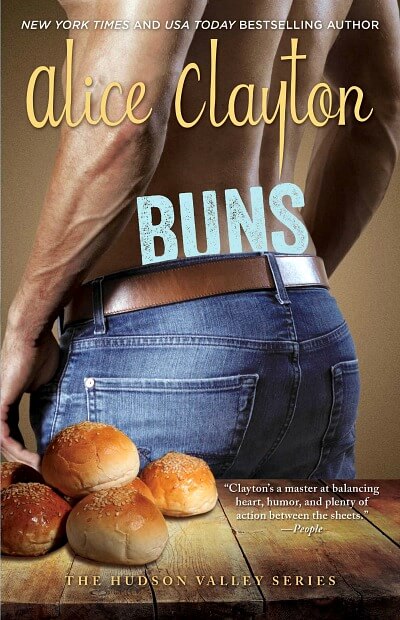 Synopsis:
Clara Morgan is living the dream, if you can call rebranding hotels that are desperate for a new life and running any kind of marathon a dream. Which she does. But the career she loves and the endurance races that keep her adrenaline pumping have kept her too busy to put down any roots.
Growing up in foster care, she's never been able to establish traditions of her own, which may be why she's fascinated by the rituals that generations-old family resorts are known for. She's especially interested in the Bryant Mountain House, and not just for their secret recipe for the yummy, gooey, can't-get-enough-of Hot Cross Buns….
Archie Bryant, the man with the Buns, is fifth generation and one-day-owner of the charming yet run-down Bryant Mountain House in Bailey Falls, New York. He's determined to save his family's legacy from the wrecking ball the old-fashioned way—by gritting his teeth and doing what needs to be done. There's no way Archie will be influenced by the new hotel branding expert his father brought in to turn one hundred and fifty years of tradition on its head just to attract a faster, younger, slicker crowd. But when some of Clara's ideas start bringing in new, paying customers, Archie can't deny that she may have just given him a shot at keeping his resort open.
It's sticky, it's messy, it's sweet, it's BUNS.
Review of Buns by Alice Clayton
There is a reason that Alice Clayton is one of my go-to author's for contemporary romance novels. She has the magic formula for fun and flirty reads that hook you up and never let you go.
This new novel is a part of a series, but it is not necessary to read them one after another. You get to know everyone through each book and some characters even pop in from other series too. You never know who you will run across while reading her books.
BUNS is a delightful story that pairs two unlikely people together for a wild ride of snarkiness, heated anticipation, hot buns, and steamy hookups. It's Sweet, Hot and Sticky! This fast paced read is fun from start to finish. Never a dull moment!
Looking for a good time? Alice Clayton knows how to have a great time and writes stories that you sink into for hours on end.
Laugh and cry along side of the Hudson Valley gang this summer. Make sure to grab this one and the others in this series. I know you will love them as much as I do!
Disclaimer: Chris has personally reviewed the product listed above. She has not received any monetary compensation for her review but did receive a free ebook so she could evaluate and use it for this post. Her thoughts & opinions in this review are unbiased & honest and your opinions may differ.