* book received for review consideration
I have been on the weight-loss challenge most of my adult life. Even in high school I was probably 20 pounds overweight. My first serious diet was in college.
Back then it was easy to drop 15-20 pounds in a month. But as soon as I went back to eating improperly, the weight crept back up. I was stuck in that cycle the rest of my adult life.
Even today I know the things that I eat affect me greatly. I can eat something that's not good for me and watch my stomach swell. I can eat the same things over and over and over and lose weight one week- then gain weight the next.
I can flat out run and work out 90 minutes in my pool, six days a week, and not lose pound.
To say I'm sick of my weight bouncing around is understatement. Frankly most the time it just makes me want to cry. The frustration is seemingly unsurmountable, especially when there so much weight to be lost.
I can understand why people give up. I've given up so many times.
So it was with some trepidation that I picked up yet one more "diet book" in hopes that it had the answer. And honestly I think this might have the answer.
Check out my thoughts on Bright Line Eating a new release by Susan Pierce Thompson.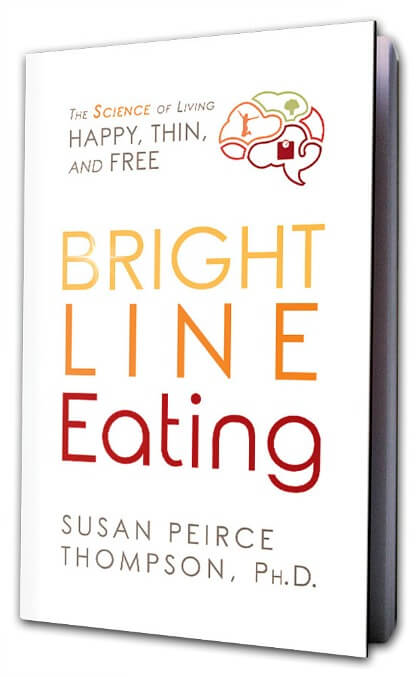 Bright Line Eating: The Science of Living Happy, Thin and Free
Susan Peirce Thompson, Ph.D.
Publisher: Hay House, Inc.; 1 edition (March 21, 2017)
ISBN-13: 978-1401952532
Synopsis:
In this book, Susan Peirce Thompson, Ph.D. shares the groundbreaking weight-loss solution based on her highly acclaimed Bright Line Eating Boot Camps. Rooted in cutting-edge neuroscience, psychology, and biology, Bright Line Eating explains why people who are desperate to lose weight fail again and again: it's because the brain blocks weight loss.
Bright Line Eating (BLE) is a simple approach designed to reverse that process. By working with four "Bright Lines"—clear, unambiguous, boundaries—Susan Peirce Thompson shows us how to heal our brain and shift it into a mode where it is ready to shed pounds, release cravings, and stop sabotaging our weight loss goals.
Best of all, it is a program that understands that willpower cannot be relied on, and sets us up to be successful anyway.
Through the lens of Susan's own moving story, and those of her Bright Lifers, you'll discover firsthand why traditional diet and exercise plans have failed in the past. You'll also learn about the role addictive susceptibility plays in your personal weight-loss journey, where cravings come from, how to rewire your brain so they disappear, and more. Susan guides you through the phases of Bright Line Eating—from weight loss to maintenance and beyond—and offers a dynamic food plan that will work for anyone, whether you're vegan, gluten-free, paleo, or none of the above.
Bright Line Eating frees us from the obesity cycle and introduces a radical plan for sustainable weight loss. It's a game changer in a game that desperately needs changing.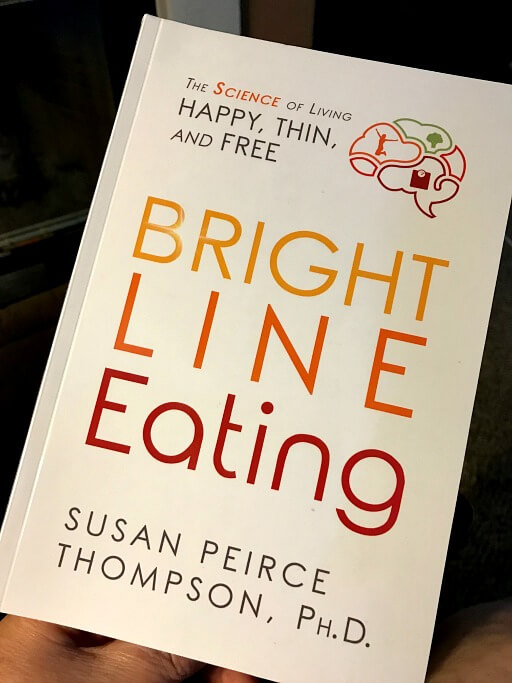 Review of Bright Line Eating: The Science of Living Happy, Thin and Free
When you hear the story about the author and the research that she's done into the brain functions, everything clicks together. Food has addictive qualities – in the way it works in our body and even in our mind.
What is great about this book is that the doctor breaks down step-by-step how sugar and flour, and their highly addictive ingredients, work in our bodies. She correlates them to the addictive qualities of drugs and when you see that in writing and read her story of food addiction, everything seems to click as why I'm not successful in my eating plan.
I think a lot of us understand how sugar works in our bodies. It's an addiction that leaves us craving more and more sugar. Flour works in the same manner. So by ditching both of these items, you can take away the addictive nature and habits that these two items can create.
I'd love to say that I have gotten rid of both of these items in my diet. But I haven't completely – yet. I think cold turkey is the only way it's going to work.
Thankfully, Susan has an online support group and interactive community at Bright Line Eating that we can join to get more insight and the support needed to cleanse and detox our body. I think that's going to be my next step.
This book has opened my eyes immensely and I think it has the answer to the weight-loss yo-yo and a healthy body for the rest of my life. My last step is to dump my early morning coffee. That's the one that has the sugar in it. LOL
If you are tired of it all, I urge you to check out this book or at least her social media. It's eye-opening and could be the answer you're looking for.
I am excited to be able to give away a copy of Susan's new book with the hopes that maybe it will help you.
Enter the Giveaway
One lucky winner will receive a copy of Bright Line Eating: The Science of Living Happy, Thin and Free by Susan Peirce Thompson, Ph.D. Here is how to enter!
Giveaway Details: This giveaway is open to US Residents age 18 or over. You must complete the Mandatory Entry to be eligible. Follow the directions in the Giveaway Tool below. This giveaway will close on April 6, 2017 at 11:59pm PST Time.
Disclaimer:The Bright Line Eating brand provided me with a copy of the book for purpose of review. The thoughts expressed here are my own and you may not agree. Sponsor is responsible for prize shipment